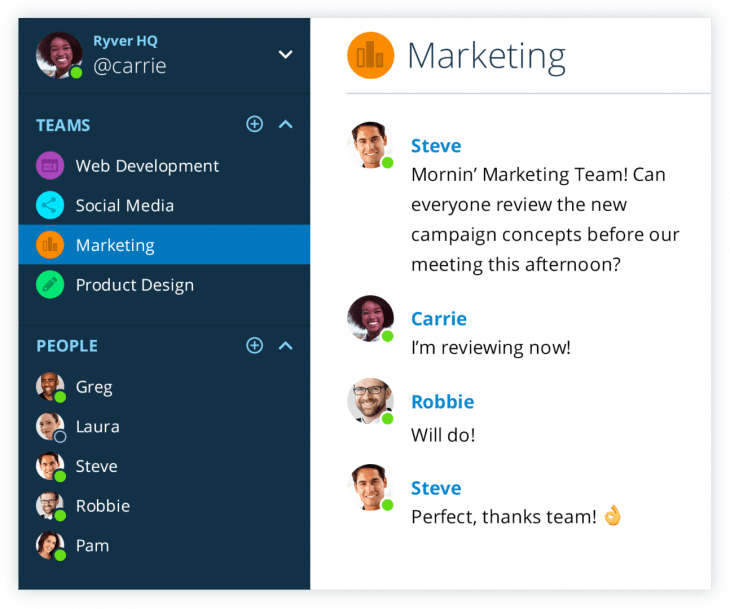 Download Ryver
Ryver is one of the best team communication tools, you can use to communicate or connect with your team and colleagues. You can share your important files, reports, and important messages directly with your team and maintain continuous and effective communication.
It is an excellent platform to manage tasks and automate business processes in one place. Ryver provides you all the necessary tools and features that you may need to make a conversation more effective. The task manager integrates with this chat application to maintain a track of what everyone else is working on and what they must do or get it done. The dashboard-like interface helps the user to access assignments and chats and keep a record of everything.
FEATURES
Custom Conversation Channels
You can choose your conversation channel at your convenience and need. For open discussion or to make company-wide announcements, you can use forums. If you want to make private conversations with your teammates, then a separate Team conversational channel is best for you. For keeping track of all your direct communications or for one-on-one interaction you can use People.
Manage and keep track of the tasks
While chatting with your colleagues you can also add step-by-step tasks for them. You can keep track of the task's progress. Ryver offers you excellent tools to get an overview of all assignments and individual tasks appointed by you to various teammates or colleagues. If you notice a problem, you can immediately take action.
Data Security
For data protection, Ryver's server uses an SSL connection protected by 256-bit RSA encryption. Strictly regulated data storage and secure login methods offered by this fantastic software prove useful to secure the user data.
How to install Ryver on your PC?
With better communication, Ryver will consequently maximize your team's productivity. You can use this platform to save your team and manage your work efficiently. Ryver is a fabulous collaboration tool for businesses. You can turn your conversations into a trackable task by installing this excellent software on your desktop or laptop.
It is always convenient to open the messages or dashboard of this software in just a few clicks on the desktop's big screen. For this, you will need to download the PC version of Ryver on your Windows 7, 8, 10 operating systems. The installation process of this excellent chat engine is not complicated, you will need to follow the instructions described below.
Step 1: Thankfully PC version of this application is available easily. You can install this browsing application from its official website. To visit the developer's official website, click https://ryver.com/.
Step 2: Alternatively, open your browser and search "Download Ryver for Windows" in the search box.
Step 3: Now, you will get a list of websites on your search result page. You can select any trusted website like filehorse.com to download the setup or .exe file of this software.
Step 4: Once you have downloaded the setup file, start the installation process and follow the step-by-step guidelines and instructions to run this software on your system.
Step 5: After following all the steps, click on finish. You can now use this software to communicate with your teammates and to manage their tasks as well.
You can upgrade to the premium version of Ryver for better performance of task manager.
You might also like