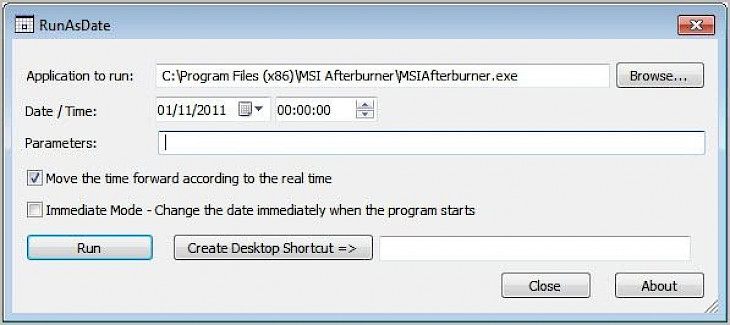 Download RunAsDate (64-bit)
RunAsDate 64-bit is a minor utility tool that allows you to run any other program at the time and date you have distinctly specified. This utility does not alter your computer's current device date and time but injects only the date/time you set into the desired program. You can concurrently run several applications, each program operates for different dates and times, while your system's real date/time continues to run normally.
RunAsDate intercepts calls from the kernel API that return the current date and time (GetSystemTime, GetLocalTime, GetSystemTimeAsFileTime) and substitutes the current date/time for the date/time you assign.
Features of RunAsDate (64-bit)
The remarkable features of RunAsDate (64-bit) have been elaborated briefly below for your reading.
New Immediate Mode
RunAsDate still waited until the kernel was fully loaded in versions before 1.03, and only then did it inject the desired date/time. This means that instead of the fake date/time of RunAsDate, some programs that get the date/time in the very early stage got the actual current date/time. RunAsDate injects the date/time immediately when the process begins, without waiting for the kernel to load, starting with version 1.03 when the 'Immediate Mode' is switched on. This mode can, however, also cause trouble. If running a RunAsDate program causes it to crash, the 'Immediate Mode' should be turned off.
Run from Command Line
RunAsDate can also be used from the command line, with a unique syntax.
Translatable to Multiple Languages
RunAsDate enables all dialog-boxes and other strings to be conveniently converted to other languages.
Freeware Licencing
This service is distributed as freeware. Given that you do not charge anything for this, you are allowed to freely distribute this utility via floppy disc, CD-ROM, the Internet, or in some other way. If you distribute this utility, you must provide, without any alteration, all the files in the distribution kit. Know that it is not appropriate to market this utility as part of a software package.
Download and Install RunAsDate (64-bit) for Windows PC
System Requirements for RunAsDate (64-bit) for Windows PC
RunAsDate is compatible with Windows 2000, Windows XP, Windows Server 2003, Windows Server 2008, Windows Vista, Windows 8, Windows 7, and Windows 10 operating systems. Older Windows versions are not supported. For use with x64 software, the x64 edition is also available as a separate download.
Download RunAsDate (64-bit) for Windows PC
RunAsDate in its latest version 1,37 can be downloaded from this page seamlessly. You can also do the same from the Nir Sofer official website NirSoft if you want. Downloading RunAsDate software is absolutely free of cost and takes only a few minutes.
Install RunAsDate (64-bit) for Windows PC
Any installation process or additional DLL files are not needed for the app. Copy the executable file named 'RunAsDate.exe' to any folder you want and run it to begin using it. Select the date and time you want and the program you want to run in the main Run As Date window. Optionally, you can also define the parameters of the command-line to run the program. To start the application with the date/time specified, press the 'Run' button.
That's it. Now you are ready to run the software as and when you want to alter the time and date for a specific app on your Windows PC. Enjoy!
You might also like