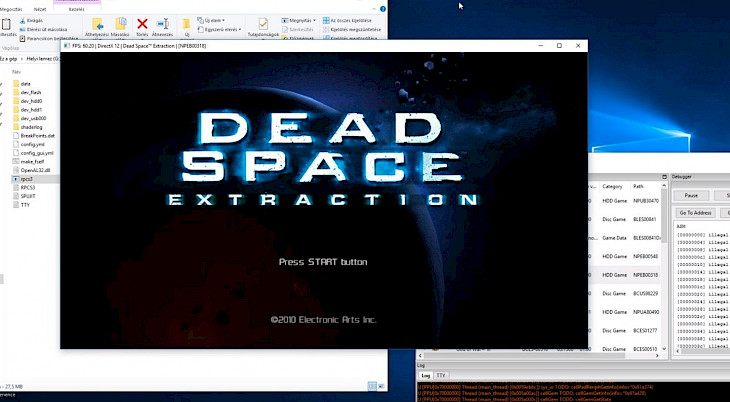 Download RPCS3
PlayStation is one of the most popular and dominant platforms for playing computer games for a very long time. You will get a ton of legacy games and recent 3D animated games on this fantastic PlayStation platform. For gamers who love PlayStation and want to play their favorite PS3 games on their PC screen, RPCS3 is for you. RPCS3 is designed to allow PS3 fans to play their PS3 games conveniently on their Windows Operating system.
RPCS3 is an open-source PC emulator that is written in the C++ language. This emulator will allow the users to boot various games by using this reliable platform. RPCS3 is compatible with a wide range of games, so you will not need to think twice before choosing your favorite game.
FEATURES
This excellent emulator will provide you a tremendous gaming experience at a better resolution. The high-quality presentation or higher resolution results in clear up the game's graphics and image and provides a fantastic experience to the users.
Sometimes, the CPU is responsible for low performance. But RPCS3 will enhance the resolution to deliver excellent performance.
In this new version, the developers improved the application's visual fidelity which means that the user can freely enjoy playing their favorite games and viewing angle is not a problem now.
Several games are tested to check and ensure their compatibility with RPCS3. You will need to choose or pick your game and start playing it with better resolution and high CPU performance.
System Requirements
Make sure that you should check the minimum system requirements before downloading the RPCS3 on your system.
Operating System: Windows 7, 8, 10

Processor: Dual-core Processor, Intel, NVIDIA, or AMD

4GB of RAM

Supports OpenGL 4.3 or later
How to Use RPCS3 on Your PC?
The PlayStation enthusiast who wants to play PS3 games on their PC can easily download this application on their Windows 7, 8, 10 operating systems. You will need to check the minimum system requirement before downloading this emulator software on your system.
Step 1: First, you will need to download the latest version of the RPCS3 emulator on your system.
Step 2: Create a new folder with the RPCS3 name and extract the "RPCS3 zip" file into the "RPCS3" folder.
Step 3: Download the latest PS3 firmware software.
Step 4: Now open the RPCS3 folder and click RPCS3 to run the emulator and follow the instructions carefully.
Step 5: Click on file > "Install Firmware" and select the downloaded PS3 firmware file.
Step 6: When the installation is completed, you will see a success message on your screen.
Step 7: You can see the guide to know how to play PS3 games in the RPCS3 emulator.
Step 8: To play your favorite PlayStation 3 games you can create a new folder and name it as a PS game.
Step 9: When you extract your game zip file you will see two different files inside the folder, the .pkg file and the .rap file.
Step 10: Copy .rap file and open RPCS3 folder. Drag and drop .rap file inside the exdata folder.
Step 11: Open the RPCS3 emulator and click on the "file" option and choose to install the .pkg. Now select the game package file from the PS game folder.
Step 12: Once the game is installed completely, wait for a few minutes until the process is completed. Now you can enjoy your favorite PS3 games on your Windows operating screen.
You might also like