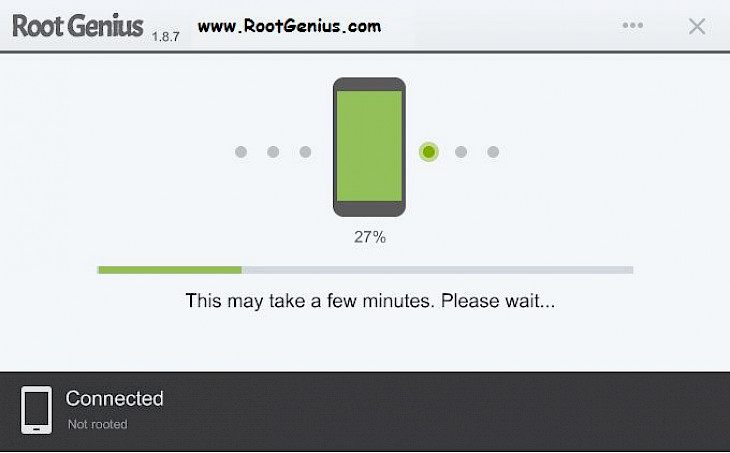 Download Root Genius
Have you ever wanted to get your Android device rooted? Do you ever ponder upon the various cool stuff you will be able to access and run on your rooted Android phone once you root it? Look no further! Root Genius 3.1.7 is the tool that will do the rooting for you end to end. For extremely safe processing, you can try Root Genius for Windows PC. Although it requires PC connections, it doesn't take much time to process as this is supported with the best Superuser update guaranteed for a full one-click Android root.
Developed by Shuame, Root Genius is the smarter, faster, and more supportive root software compatible with over 10,000 new device models under reputed manufacturer names for all Android phones and tablets. The tool supports one-click rooting for Android, providing the user with both device and PC root support. Get an entirely free Root Genius download and enjoy a whole new level of experience on your phone. The program runs in a very secure structure and guarantees the maximum installation of Superuser.
Every new version of an OS comes with specific modifications and enhancements. So why the need for a root? Of course, with a rooted phone, you have much more control on all sides than a non-rooted Android. With all the root freedoms you receive, you can alter the look, how it feels, how it works, how it is shaped, and all. But all of these can only be useful if you select the correct version of the tool. Therefore, Root Genius is the ideal solution with minimal time and effort to make you the most comfortable one-click root.
Features of Root Genius
The Root Genius PC version supports the most secure Android Root experience through Windows PC connections. Reviews confirm that one of the best choices for root apps with the most supported scripts and updated features is Root Genius Download. Root Genius performs according to the system model and firmware compatibility. But it's up to you to download the new version of Root Genius by testing your compatibility.
The most striking features of Root Genius are as follows.
No Installation Required for Usage
To make it as simple as possible to use Root Genius, developers from Team Shuame have chosen to include this software inside a compressed ZIP folder. All you are required to do is unpack it somewhere in your local storage and open the EXE file. This may be an internal drive or even a portable USB stick. The app does not feature an automatic uninstaller because of this method, and you must delete its directory to remove it.
Straightforward Usage
The Root Genius Windows app will prompt you to plan the rooting procedure for your Android device, which may be either phone or tablet. This involves connecting the computer with a USB cable to the PC and switching on the USB debugging mode in its OS. OS debugging can be allowed in the Developer Choice area of your devices and must be checked for first-time use when connecting to a PC. The app will show the detected phone in the lower-left corner if it can touch it and the big green 'Root it' button on the lower right. Clicking the button and waiting for a while is all that remains.
Focussed UI
Root Genius provides an amazingly streamlined user experience for total novices. Hence it is the perfect one-click rooting solution to root your Android phone and tablet computer.
Download & Install Root Genius for Windows PC
As mentioned in the previous section, the Windows version of Root Genius does not require any installation on your PC. Only download and run Root Genius while your phone is connected to the PC. However, be aware that the new Root 3.1.7 update is only accessible with the Chinese interface.
PC arrangements are the only thing to remember here for flawless processing. So first of all, install USB drivers on your Windows PC and make it ready for root to run. And allow USB debugging mode with a proper cable from the computer to get through connections, too. ADB drivers are used to installing USB drivers and to enable USB debugging mode. If this is completed, you must run the Root Genius installer on your PC and have the software installed. Then, smartly link and root.
You might also like