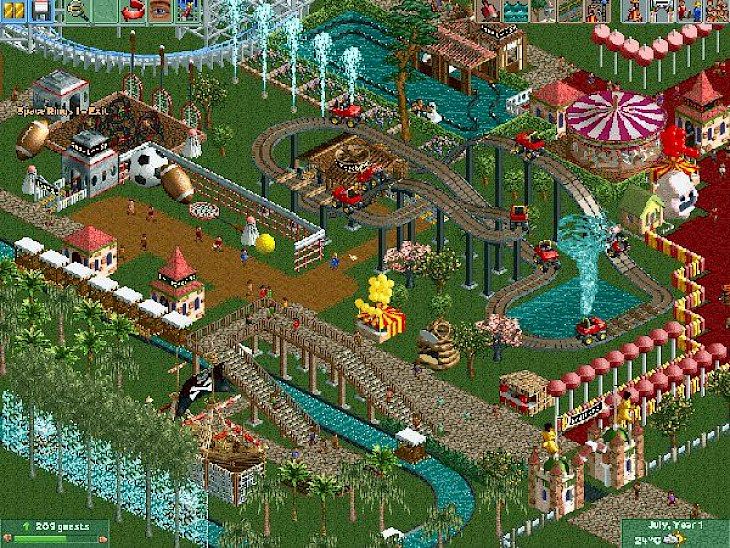 Download RollerCoaster Tycoon 2
RollerCoaster Tycoon 2 is a famous simulation game for construction and management produced by Chris Sawyer and released by Infogrames. Released as the sequel to RollerCoaster Tycoon in October 2002, the game simulates the management of amusement parks. In 2017, the features and expansions were moved to the RollerCoaster Tycoon Classic.
RollerCoaster Tycoon 2 challenges players to run theme parks in various scenarios to make them excel in various ways. Various attractions may be introduced to the parks as well as landscaping and decorations, including transport tours, gentle walks, thrill rides, roller coasters, water rides, and shops or stalls. By building food stalls, toilets, and souvenir shops, as well as facilities and amenities, such as ATMs and information kiosks, as well as recruiting employees, the player meets the needs of the tourists. Players need to align their expenditures and revenue in their budget when doing this.
A noteworthy distinction from RollerCoaster Tycoon is a more stable building structure framework in which each piece of wall and roof can be laid individually. By allowing pieces of scenery, rides, and other structures to be mounted at various heights above and below ground, the game offers greater versatility. Many of the rides were changed and renamed from the initial RollerCoaster Tycoon. There have been some old ride styles combined with others.
Features of RollerCoaster Tycoon 2
Packed with all the features of the original RollerCoaster Tycoon, RollerCoast Tycoon 2 also contains several new and improved features. Most of them are discussed below.
Real-Life Ride & Park Designs
With 25 fantastic Six Flags coasters and 5 Six Flags parks focused on real-life locations, RollerCoaster Tycoon 2 lets you test your Tycoon skills. The game contains a licensed promotion by Six Flags focused on five of their amusement park divisions, including Great Adventure, Magic Mountain, and Over Texas, to have their own material and scenarios.
Brand New Roller Coaster Designer
The Roller Coaster Designer lets players create and test their own incredible rides and save them for future use in other levels of the game. In other cases, several famous rides in Six Flags amusement parks can be used, but are blocked from editing. Several new themes and music for attractions are also included in the game.
Customizable Scenery
In this title, user-created scenery elements make their debut. The 'bulldozer' allows several pieces of scenery to be removed by the player instead of just one piece at a time. A scenario editor is introduced that enables players to create their own scenarios, create the landscape, set goals, and choose the rides and scenery available. With modern and distinctive themes, like Wild West, Giant Garden, Pirates, and more, you can customize your park all on your own.
System Requirements for RollerCoaster Tycoon 2
The following system requirements are necessary to run RollerCoaster Tycoon 2.
Operating System - Windows XP, Vista, or higher

Memory - 512MB

Hard Drive - 2GB

Processor - 1.8GHz

Graphics - 3D Graphics Card compatible with DirectX 7.0

DirectX - Version 7.0
Download & Install RollerCoaster Tycoon 2 for Windows PC
Download RollerCoaster Tycoon 2 for Windows PC
You can head over to the official RollerCoaster Tycoon website to download the game free of cost for your Windows PC, or can also choose to do so from any other famous retail website. After the installation package is successfully downloaded, you can proceed with the game's installation.
Install RollerCoaster Tycoon 2 for Windows PC
To install the game after downloading the installation package, open the executable file to run the installer for RollerCoaster Tycoon 2.
Once the installer appears on the screen, click on 'Next' and agree to the User Agreement.

Keep following the installer instructions to proceed with the installation.

Once the game completes installing, click on 'Finish' to exit the setup.
There you go! RollerCoaster Tycoon 2 can now be accessed from its desktop icon and played on your Windows PC whenever you want to test your administrative skills as a business tycoon. Have fun playing this addictive and immersive game!
You might also like