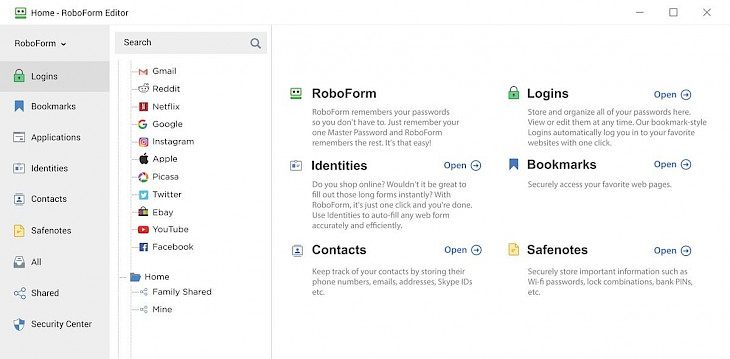 Download RoboForm
Filling the same information or entering the passwords can be frustrating sometimes. If you are looking for an excellent and effective way to store your password, RoboForm is for you. Siber Systems Inc designed and developed this superb software to securely store the username and passwords that you have entered. Hence you will not need to remember the passwords when you have login into your online account next time.
You may forget the password you have written but RoboForm helps you to create complicated and different passwords online without even memorizing them. This fantastic software will save your passwords and information in a secure environment and autofill on the selected sites.
FEATURES
One-click Convenience
RoboForm has offered an extremely beneficial one-click option to its users. The software will memorize and stores each information and password that you have entered the first time. Your passwords and login information will securely store and next time you can log in to your account in just one tap without wasting your time. This excellent software also saves your billing information with Autofill for long web forms.
Create stronger passwords
You may be tangling with creating duplicate or weak passwords for your online accounts. This software has this excellent password generator feature that guides the users to create a strong and unique password for each site and online account. Luckily you no longer need to remember any of these passwords RoboForm will securely store them for you.
Shared Logins
This software will allow the users to share their login information securely with others. Yes, you heard that right. You can share your login information with your friends and family by simply entering the recipient's email.
Strong security
To provide data protection, RoboForm uses AES-256-bit encryption with PBKDF2 SHA-256. To access your account and protect your data this software will provide two-factor authentications.
How to Download RoboForm for Windows?
This enormous software is available in the PC version and also compatible with multiple-platform. RoboForm is one of the best applications to save your time by securely saving all your passwords and information in one place. The platform can be installed easily on your Windows 7, 8, 10 operating systems.
Step 1: You can install this software from its official website. To visit the developer's official website, click https://www.roboform.com/
Step 2: Alternatively, open your browser and search "Download RoboForms for Windows" in the search box.
Step 3: Now, you will get a list of websites on your search result page. You can select any trusted website to start downloading the setup or .exe file of this software.
Step 4: Once you have downloaded the setup file, start the installation process and follow the step-by-step guidelines and instructions to run this software on your system.
Step 5: After following all the steps, click on finish. You can now use this software on your system to save your passwords and login information
Once you have successfully run the software, you will see the RoboForm icon on your desktop. Click on the icon to open the application. Now, create your RoboForm account by entering your email address and setting a master password. You will need to remember this master password to access your RoboForm account. When you have created your account, use this platform to add your passwords for logging into any online account in just one click.
You might also like