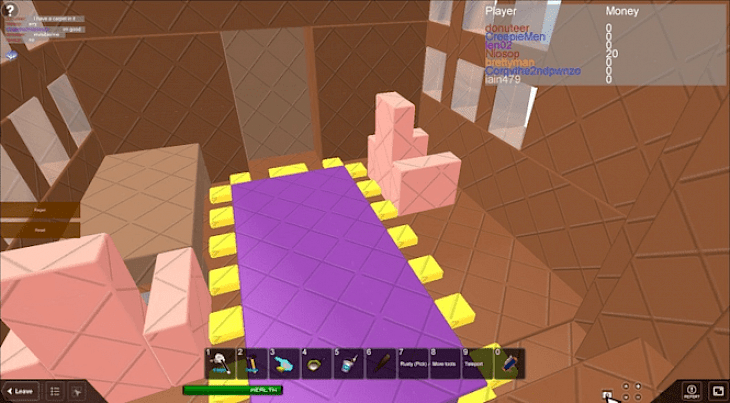 Download ROBLOX 1.6.3
Have you ever thought about a platform where you can design your own game and play it with your friends? Roblox is a game development system and online game platform that allows users to program games and play games created by other users. Established in 2004 by David Baszucki and Erik Cassel and launched in 2006, the platform hosts multi-genre user-created games coded in Lua, a programming language.
With in-game transactions available via a virtual currency called 'Robux,' Roblox is free-to-play. Roblox has over 163 million monthly active users as of August 2020, with over half of all children under the age of 16 in the U.S. playing it. Roblox is currently available in its latest version of 2.423.
ROBLOX for Windows PC is a platform that can easily give you the gaming experience that will surprise you and hook you into daily play, either alone with your friends, or with endless play, from first-person shooters, platformers, third-person adventure games, RPGs, all the way to the more exoteric and experimental game kinds such as various simulators, retro games, obstacle courses, and art games. It is quick to use because of its visual style and easy-to-use development tools.
Features of ROBLOX 1.6.3
ROBLOX has become one of the largest game creation sites in the world after more than ten years on the market, featuring millions of unique games and countless individual items for game creation.
Some of ROBLOX's exceptional features include the ones mentioned below.
Roblox Studio
Using its proprietary engine, Roblox Studio, which can then be played by other users, Roblox allows players to build their own games. Games are coded under an object-oriented programming framework that uses the Lua programming language to control the game environment. Users can produce purchasable content through one-time transactions known as 'Game Passes', as well as microtransactions.
Game Items & In-Game Currency
Roblox allows players to buy, sell, and build virtual objects that can be used to decorate their virtual character that works on the platform as their avatar. In the Roblox game, Robux is the virtual currency that enables players to purchase different objects. By buying it with real money, from a regular stipend given to members with the premium membership, and from other players by creating and selling virtual content in Roblox, players can receive Robux. Robux obtained by selling user-generated content can be exchanged via the Developer Exchange system of the website into real-world currency.
Exciting Events
Real-life and virtual events are periodically organized by Roblox. In the past, they have held activities such as BloxCon, which was a platform convention for ordinary players. Roblox runs annual Easter egg hunts and also holds the "Bloxy Awards" yearly celebration, an awards ceremony that also acts as a fundraiser. Having one of the largest online communities, participating in these events of Roblox sure is fun.
Download & Install ROBLOX 1.6.3 for Windows PC
Download ROBLOX 1.6.3 for Windows PC
To download ROBLOX 1.6.3 for your Windows PC, you can either go to their official website or any other retail website and download the setup file. Once it is done, double-click on the file to start the installation process.
Install ROBLOX 1.6.3 for Windows PC
The ROBLOX installer will pop up on the screen, and you will need to follow the following instructions.
Click on 'Next' and agree to their User Agreement.

Please wait for the installation process to start and end.

Click on 'Finish'.
ROBLOX will now be available as a desktop icon for you to run as soon as you want. Have fun playing and designing games at the same time with your friends!
You might also like