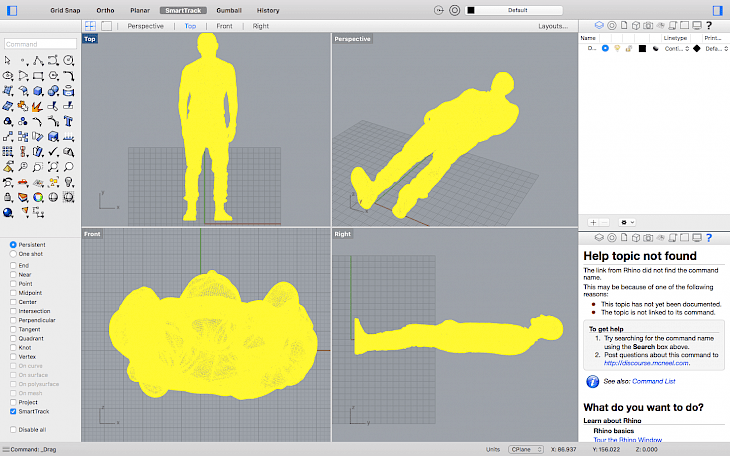 Download Rhino 3D
Rhino can create, edit, analyze, document, render, animate, and translate NURBS curves, surfaces, and solids, point clouds, and polygon meshes. There are no limits on complexity, degree, or size beyond those of your hardware.
Uninhibited free-form 3-D modeling tools like those found only in products costing 20 to 50 times more. Model any shape you can imagine. Accuracy needed to design, prototype, engineer, analyze, and manufacture anything from an airplane to jewelry.
Compatibility with all your other design, drafting, CAM, engineering, analysis, rendering, animation, and illustration software. Read and repair meshes and extremely challenging IGES files.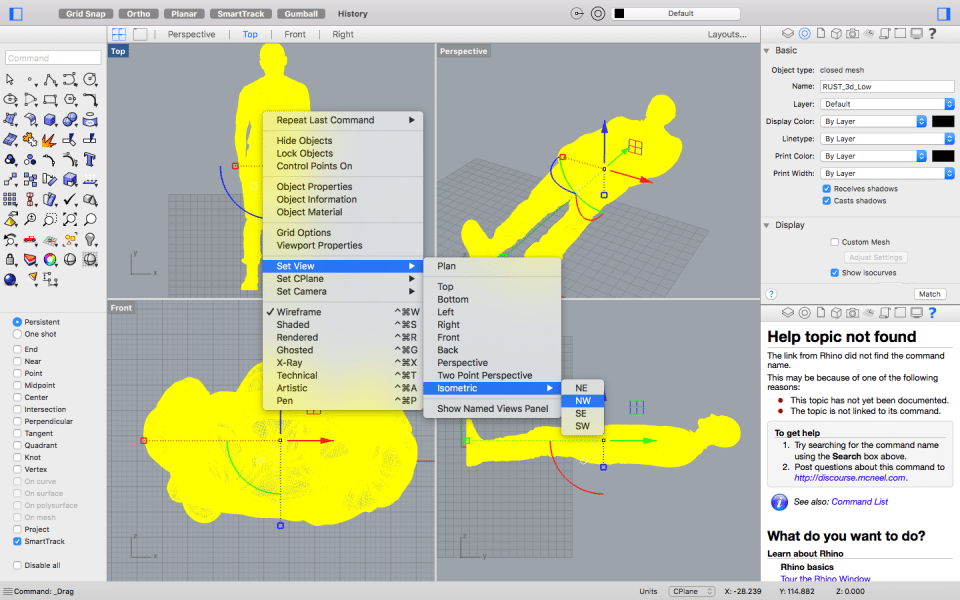 Rhino Render, a raytrace render with textures, bumps, highlights, transparency, spotlights with hotspot, angle and direction control, point lights, directional lights, rectangular lights, linear lights, and shadows, and customizable resolution, real-time render preview, real-time render preview selected objects, turntable, export to many common file formats used by renderers, rendering plug-in support (Windows only), settings saved in file.
Rhino supports both 3D digitizing hardware and 3D scanned point cloud data. 3D scanners have become faster and cheaper, making huge scan files more common. Rhino's 64-bit support and enhanced support for graphic co‑processors has made it possible to work with these large point clouds.
Robert McNeel & Associates released Rhino 3D 6 for Windows with a lot of exciting features. In release note, we start with Grasshopper - popular visual programming language - that was fully embraced.
Grasshopper is no longer beta, and some features and renovated workflows that needed fundamental overhauls to make them truly productive have been rewritten. Used in some of the most ambitious design projects of the past decade, Grasshopper, like Rhino, has become a robust development platform.
Grasshopper provides foundation for many incredible third-party components ranging from environmental analysis to robotic control.
There are also major changes to Rendering, Materials, or just plain capturing the viewport, it's now easier and faster to present, discuss, make decisions, and iterate using Rhino 6.
New display pipeline is faster and uses GPU sensitive shaders and memory optimizations. This results in fewer GPU-specific display glitches and more consistent, beautiful, and frequent frames, even with large models. In some conditions, display speed can be up to 300% faster.
Moreover, Make2D feature has been completely rewritten to provide faster, better, cleaner, more customizable results. Small quirks add up to painful paper cuts over the course of a prolonged modeling session.
In Rhino 6 the developer fixed hundreds of minor bugs and consolidated disparate - but similar - features into single commands, making Rhino much more refined. Rhino 3D 6 brings major improvements to the free SDKs, with API refinements, better documentation, and more access to Rhino commands from Grasshopper.
You might also like