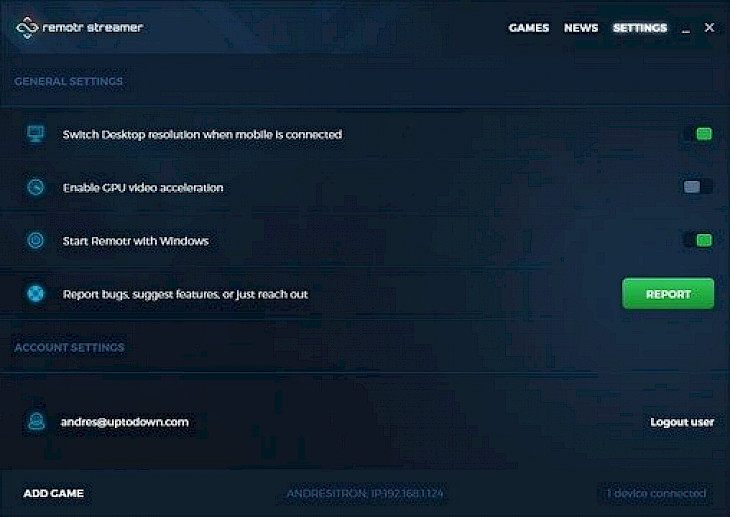 Download Remotr Streamer
The gaming culture has stepped up to a whole new level, all thanks to technology's advent. Things have become way more discrete and more comfortable to carry out such that the gameplay of the gaming experience doesn't differ one bit. For many gamers, gaming on the go has become a thing to carry their favorite games everywhere and anywhere.
But for those that want the features, you can just readily have it on the tip of your fingers. You will need a third-party application to get such features. However, even in these third-party applications, there are hardly a few of them that come up to the task, but one fascinating one is discussed below that lets you do everything that has been discussed above. Check it out.
What is Remotr Streamer?
Remotr streamer is an application where you can stream all your games from your computer to your mobile, tablet devices. It's quite the applications that make gaming on the go a reality. However, there are only select games that can be done, and you will require a stable internet connection to get the best of the games that are being streamed onto your device. You can even do the same to your television sets as well.
Key Features of the Software
There are plenty of unique features baked into the application. These features include gaming on any device, play on any network connection, explore multiple games that are only supported on computers on your mobile device, controls that are onscreen, and much more.
The application is quite simple and straightforward to use with no extra learning curve. All you need is a compatible device and a Computer system, and you are good to go.
The entire application is free of cost with no additional or hidden charges. Simply plugin, connect and start playing to your heart's content.
Minimum System Requirements
OS – Windows 7 or higher

RAM – 1GB or higher

Storage – 100MB or higher

CPU – 1.8GHz processor or higher

Hardware – compatible mobile device with the latest android or iOS version.
How to Download and Install it on a PC
The installer of the application can be found on multiple third-party sites. Get it for both your computer and for your smartphone.
Once downloaded, then install the software on your computer and the smartphone by following the onscreen set of instructions for both the devices.
After successful installation, enjoy explicit gaming from your computer on your smartphone seamlessly with a stable internet connection.
You might also like