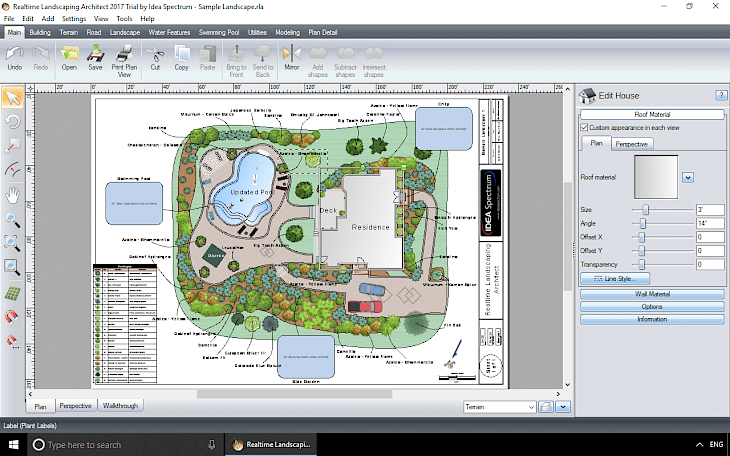 Download Realtime Landscaping Architect
Realtime Landscaping Architect is a software designed for landscaping professionals. Application includes all tools to create plans, 3D presentations, and CAD drawings of landscape designs. Create plans with a hand-drawn look in a fraction of the time.
Design landscapes using a wide variety of tools. Smart objects in Realtime Landscaping Architect simplify the design process of creating fencing, houses, decks, gardens, water features. Your can customize plans with a wide variety of plant symbols and color washes. Freely switch between 3D and 2D views. Use the integrated CAD tools to design irrigation systems, installation instructions, planting details and more.
Realtime Landscaping Architect symbols libraries included architecture, plants, lighting and utilities. You can also create your own custom symbols and create custom furniture, arbors, trellises, planters, and other objects using the integrated modeling tools. Drawing templates for sheet sizes A0-A4 are included, and you can create your own custom sizes and drawing scales. Both English and Metric units are supported. Landscapes can be up to 50 acres in size.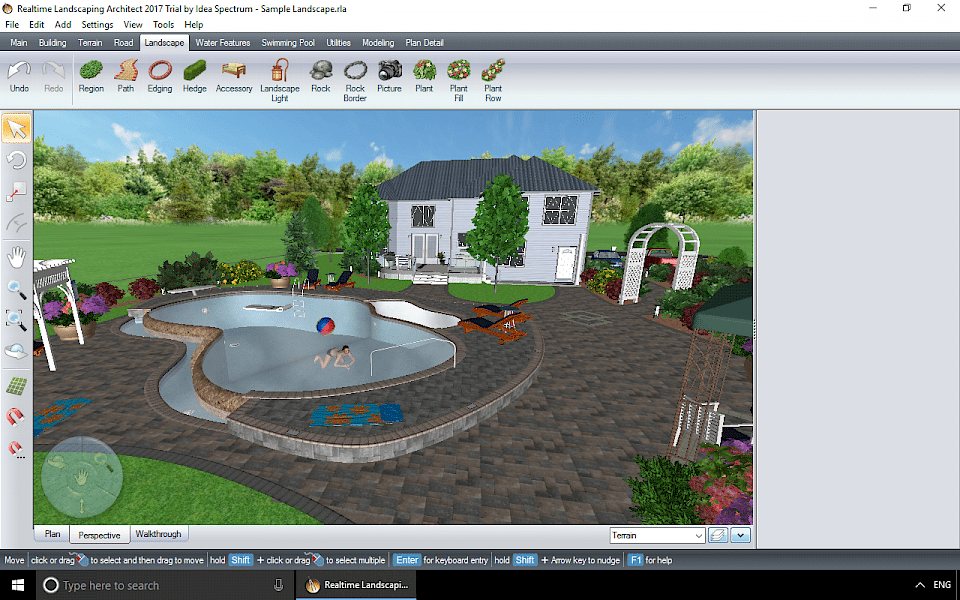 Realtime Landscaping Architect offers over 16,400 objects, including 7,200 plants, 3,000 accessories, 2,050 plant symbols, and more. Using the Project Material List feature you can create materials, set item descriptions and prices, and export the result to Microsoft Excel or other spreadsheet program. Plant types include trees, shrubs, flowers, water garden, cactus, and palms. Plant information includes common name, botanical name, planting zones, and size.
Using Realtime Landscaping Architect tools you can also create irrigation systems. Use Sprinkler Head tool to add adjustable water coverage. Use the Sprinkler Line tool to lay out the irrigation pipes in any color and style needed. Add rain sensors, valves, the POC, and more using the prebuilt symbols available, or create your own irrigation symbols. The Plant Label Wizard automatically labels all of the plants in your landscape design. Label options include common name, botanical name, plant key, and quantity.
Bring your landscape designs to life by adding 3D people that will animate during Realtime Walkthroughs and when creating videos. Design on top of an external CAD design by importing a DWG, DXF, or PDF file and drawing over it using Realtime Landscaping Architect's intuitive and powerful tools. The trial is fully functional, but contains a small number of plants and other objects. A watermark appears on movies and printouts. The full version of the software comes with over 16,400 objects and a shipped package.
You might also like