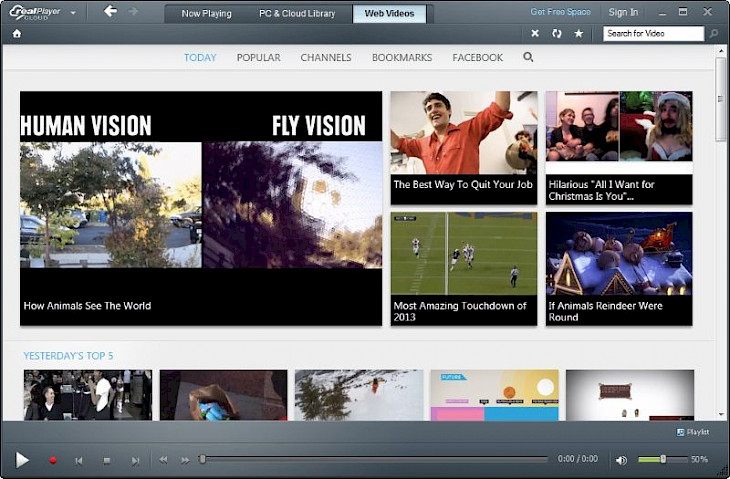 Download RealPlayer Cloud 17.0.9.17
You can watch your favorite movies or videos anytime from anywhere in the world by using various media players available in the market. Developed by RealNetworks, Realplayer Cloud 17.0.9.17 is one of the preferred media player platforms which allows its users to watch and download their favorite video in any format including AVI, Mp4, FLV, etc., easily and conveniently.
Upload your files on your free account and watch movies and videos from any device. You can also share your files on any social media networking accounts.
FEATURES
Download Videos
Sometimes you might think if you can download a streaming video or your favorite episode to watch later. Realplayer is not just a video player, you can download any video from any streaming platform like YouTube or other trusted websites available on your browser. You can make your playlist or library to manage all your video and movies in one place and can watch anytime.
Play any video
Not all videos which you have downloaded need to be available in Mp4. This excellent software automatically recognizes the format of video and allows you to play and watch any video in any format either it is AVI, MPEG, WMV, or FLV.
Convert video to audio
RealPlayer is not just a video player platform. This software has some advanced features which make this platform one of the most popular media players in the market. It allows its users to convert videos and movies of your library into MP3 or audio. If you do not have the time to watch the video then you can convert it into audio tracks for your convenience in a few clicks.
Edit videos
This enormous software offered you editing features too. You can trim and edit your favorite videos and movies in a few easy steps. You can also share these files with your friends and close ones on various social media platforms.
Manage your videos
You can use this software as your portable CD. Download your videos and make your playlist. You can access your library videos anytime on any device without an internet connection.
How To Download Realplayer Cloud In Windows?
This user-friendly interface software allows you to categorize your videos in various sections of your choice. You can install RealPlayer Cloud 17.0.9.17 on your Windows 7, 8, and 10 Operating systems by following various guidelines and instructions described below. Before downloading this software make sure that your system should meet the minimum system requirement.
Step 1- Download the setup file of this software.
Step 2- After downloading the setup file, now run this file in your system by following the step-by-step guidelines provided during the installation process.
Step 4- When installing completely, now click on the finish button.
Step 5- You will see the RealPlayer Cloud icon on your screen, click on the icon to enjoy watching your favorite movies and videos on your system.
You might also like