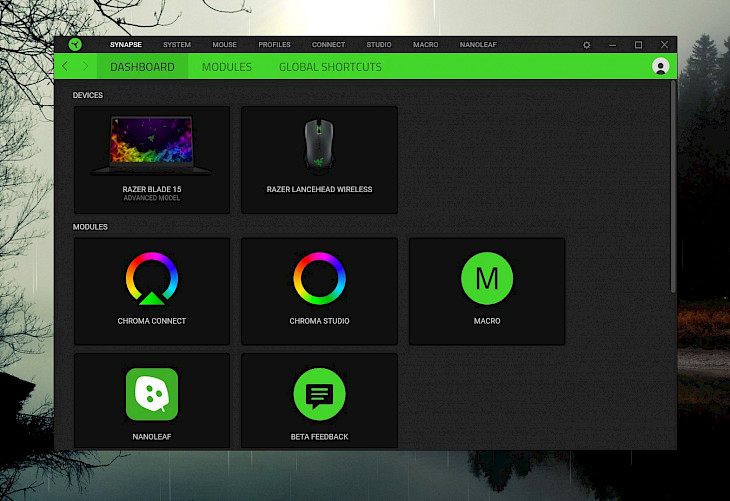 Download Razer Synapse
Razer Synapse is an optimisation software built exclusively for Razer devices. It revolves around cloud technology, connecting Razer devices in a network and syncing them to each other. These devices include keyboard and mouse as well. It comes pre-installed in most Razer products. All the user has to do is hands the reigns of control to it. Upon configuring Razer Synapse, a dashboard of modules pops up. Each module serves a different purpose. When Razer devices are connected to the system, Synapse automatically detects and syncs its settings to it. The settings are highly customisable, which accounts for Synapse's flexibility.

Key Features Of Razer Synpase
No Account Registration
The earlier versions of Synapse required the user to create an account on the server before granting them access to the app's features. This proved to become a bothersome feature in the long run. With Synapse 3 however, great care is taken to make things conveniently available to the users, with or without an account. If users want to experiment with their Razer devices, they can create a guest account and make the best use of all the features Synapse 3 offers.
Connect Multiple Devices
Now get all your Razer-driven products connected to one network. Although the list of compatible devices is smaller than the previous Synapse version, it still lets you configure your hardware using precise functions. Save your profile to multiple devices in a jiffy and operate them simultaneously. Also, did we mention that you can customise your Chroma and Philips Hue Lighting? Talk about exciting! You could build a disco themed light pattern smack dab in the middle of the room.
Privacy Protection
Another feature that is stark contrast to the previous versions of Synapse. You can configure your hardware devices giving too much away. It doesn't ask for your bio data when you feel like tweaking your Razer devices. This saves you time as well as answers to a lot of unimportant questions.
No Internet Needed
Razer Synapse doesn't depend on internet connection. You can establish a network, sync your Razer devices, configure their settings and adjust macros, all without having a solid internet connection. This offline feature definitely makes it more favourable among users.
System Requirements For Razer Synapse
Make sure your system meets the following requirements before you install Razer Synpase.
It should have Windows XP/Vista/7/8/10 64-bit operating system

The embedded processor should be either Intel Pentium 4 or AMD Athlon XP 1700+
How To Download It On PC
Click on the 'Free Download' button. Upon clicking it, you are redirected to another site that has another download button. Click on it as well.

The setup file gets downloaded. Once it finishes downloading, run it on your system.

When you finally click 'Finish', the installation ends and Razer Synapse becomes accessible on your console.
You might also like