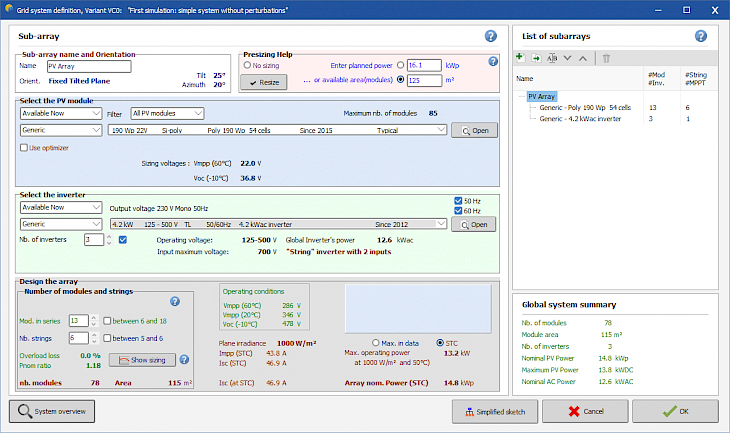 Download PVsyst
Nowadays, PV system is being used at a rapid rate to utilize natural resources effectively. Software is designed to operate these devices more efficiently in an effortless manner. PVsyst is one such software that is used to evaluate the effectiveness and deployment possibilities of the photovoltaic system. Designed by the PVsyst team this software is extremely beneficial for beginners and professionals to regulate the activities and working efficiency of the PV system to convert sunlight into usable electricity.
This software is designed and created in such an organized manner that it will provide all the essential tools and features for professionals, including engineers, researchers, and architects, to evaluate PV the system.
FEATURES
User-friendly interface
The software is designed in such an organized manner that you will quickly understand every feature and tool without much prior knowledge. Warning messaging system in the software helps its users to get aware if there is an issue.
Visualization
The visual tools offered by the PVsyst represent graphs and diagrams and gather all the constraints for the sizing of the system. Specialized tools are available for the evaluation of wiring losses.
3D shading
You can represent the functioning and the efficiency of the PV system by using this unique 3D shading scene feature. This includes scene validation tools, sun point of view stimulation, and Multithread shading calculations.
Draft Report
This software helps its users to calculate the distribution of energies throughout the year and represent the same in a detailed report. You will get a wide range of tools for efficient analysis of the system's behavior and potential improvements in the design.
Batch calculation
This software provides a shed optimization tool that helps its users evaluate the modification of the pitch as a parameter and height above ground as a parameter.
Evaluate all sizes
This software is designed so that the user can calculate photovoltaic systems of all sizes by using a comprehensive design tool.
SYSTEM REQUIREMENT
Operating System: Windows 7,8 and 10

1 GB of RAM

1 GB of free hard disc space

Screen Resolution: 1280 x 720 or later

The graphic card should be there supporting OpenGL 2.0 or higher
How to Download PVsyst on PC?
PVsyst is one of the most popular and reliable tools designed for the study, sizing, and data analysis of the complete PV system. You can install this software on your system but you will need to know that PVsyst does not support Remote Desktop Client access. This highly customized simulation tool can be run smoothly on your windows operating system by following these instructions described below,
Step 1: You can click on the download button to start downloading the setup or .exe file of this software.
Step 2: Once you have downloaded the setup file, follow the step-by-step guidelines and instructions to run this software on your system.
Step 3: After following all the steps, click on finish, and now you can use this user-friendly software on your system.
This software can be tested free of cost by using the 30-day trial offered by the developer's company.
You might also like