Pro Tools First download for Windows, Mac.
Category: Audio editing
Version: 2019.6
Last update: Jul 13, 2019
OS: Windows, Mac
License: freeware
What is Pro Tools First?
Pro Tools First 2019 is a great free software to create, record, mix, and share music. Over 70% of all commercial music is produced using Pro Tools. Pro Tools | First opens the door to a career in professional music production. The free version allows you to work on 16 track and 4 inputs.
From a variety of session templates in Pro Tools First, you can choose from rock and pop to electronica, hip-hop, and jazz. Each template provides preloaded instrument tracks for that genre so you can start creating right away or start from scratch and build your own session.
You can loop records and capture multiple takes of a performance one after the other and then pick the best take or edit together a flawless performance from multiple ones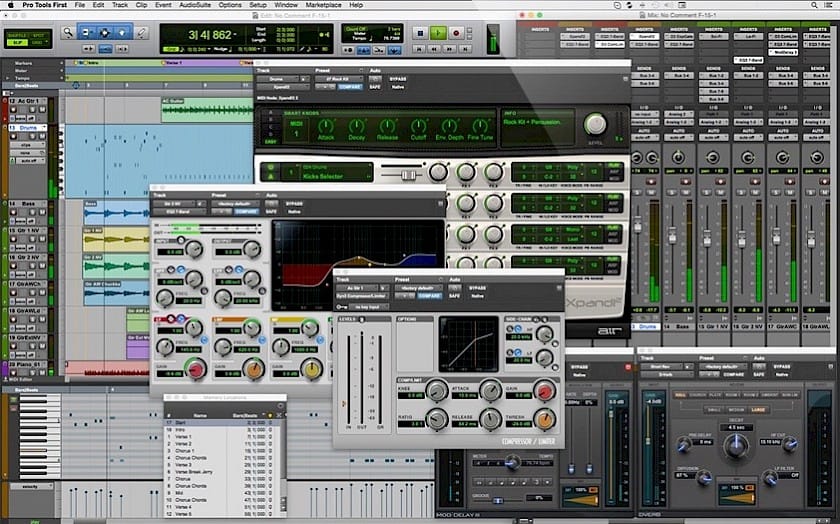 The included Xpand!2 virtual instrument offers range of sounds from beats and loops, to power chords and more cowbell. Start off with drums, bass, guitars, pianos, and synths. Then you can add strings, brass, woodwinds, percussion, sound effects, and more.
Add up to 16 virtual instrument tracks for layered sound. Pro Tools First offers professional editing tools to help you fix mistakes, edit MIDI notes to perfection with just a click and drag, change the tempo, pitch and fix timing with ease.
Pro Tools | First helps you find the perfect loop, sample, or sound for your project. Soundbase lets you search for fresh sounds and instantly hear how they fit into your tracks. Plus, you get a 500 MB loop library created by industry-leading producers and sound designers, making it even easier to produce professional-quality music.
Pro Tools First comes with over 20 effects and utility plug-ins to get you started. You can give tracks greater presence with EQ and Dynamics.
You can also record sounds by connect a mic or instrument and hit the red button. Capture individual performances, or record up to four inputs at a time that is perfect for tracking a vocal and guitar, multiple vocalists, or a live band session.
Avid Cloud Collaboration lets you record, edit, and mix projects with others as if you're all together in the same studio. Pro Tools First supports cloud collaboration so you can work on music practically anywhere you go.
Pro Tools First Alternative
| Software | License |
| --- | --- |
| Audacity record and edit multi-track recordings for free. | GPL |