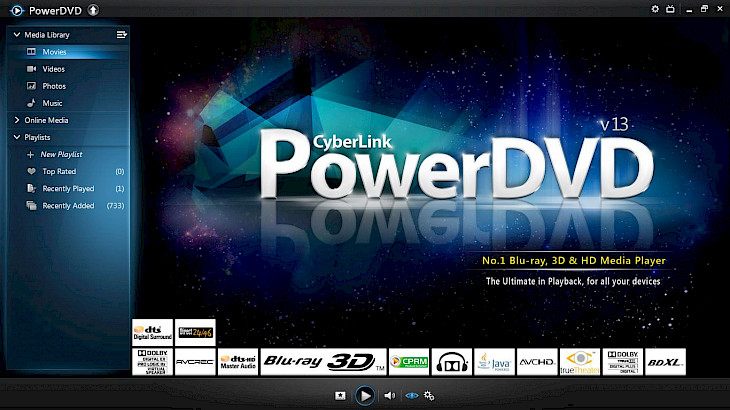 Download PowerDVD
With the increase in media, demand for media players is also increasing. People are inclining more towards watching their favorite videos and music on their devices and PC. PowerDVD is a fantastic and powerful application that you can use to play any movie, video, or music file or view photos.
PowerDVD is an amazing tool that plays more than just DVD and Blu-ray discs, this is a suitable and reliable platform for videos, audio, photos, VR 360 degree content. You can also use this platform for Youtube or Vimeo. This media player software can be your entertainment companion. The software provides you full access to your media library from any device, wirelessly.
FEATURES
Seamless playback
It is always quite irritating and boring to restart the video. This excellent platform allows the users to continue watching their favorite videos or movies from the exact point where they left off, anytime on any device.
Watch-on the Go
To provide an enormous user experience, PowerDVD enables the user to take their movies and TV shows anywhere with the Cyberlink cloud. You will not need to worry about the internet connection, you can download your favorite videos or other media files to your device and enjoy it offline.
View Movie and TV Media Info
If you are willing to watch details about movies and TV shows, then this media player is the best choice for you. You can access the detailed information of various media by utilizing the extensive content database.
Organize your movies and TV shows
This platform allows users to easily search and view their favorite videos, photos, or music. You can conveniently browse media by year of release or genre, it is under your control and your choice.
TrueTheater for audios and videos
For effective and enormous user experience various tools and features are provided by this platform. Enhance your videos with brighter, richer colors, deeper blacks, and unbeatable dynamic range. To get a better audio experience, PowerDVD offers crisper, more balanced sound, and the highest digital audio quality for every media file either video or movie.
Surround and Lossless sound
To provide professional media player quality, PowerDVD is now available with added DTS-X pass-through for multichannel, lossless sound.
Unparalleled video and audio quality
You can bring life to your favorite videos and movies, as this platform provides high-quality HD movies to its users. The TrueTheater video and audio enhancements include extended GPU Support for HDR 10.
How to install PowerDVD in your windows operating system?
PowerDVD is a fantastic software that you can use on your PC to view movies, videos, and other media files. Fortunately, the PC version of this media player is available easily. You can download it from any trusted website. To install it on your PC follow the instructions and guidelines described below.
Step 1: It is always preferred to install this software from the developer's official website.
Step 2: Alternatively, open your browser and search "Download PowerDVD for Windows" in the search box.
Step 3: Now, you will get a list of websites on your search result page. You can select any trusted website like filehorse.com to download the setup or .exe file of this software.
Step 4: Once you have downloaded the setup file, follow the step-by-step guidelines and instructions to start the installation process and run this software on your system.
Step 5: After following all the steps, click on finish, and now you can use this fantastic software on your Windows operating system.
You might also like