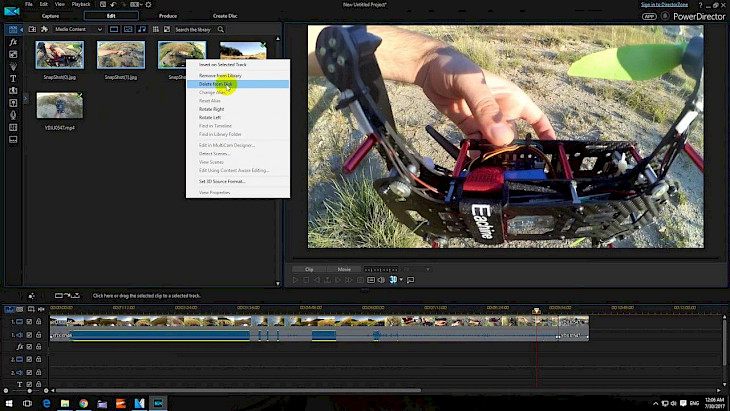 Download Power Director 15
Power Director is a powerful editing software developed by CyberLink. The software possesses some of the most advanced and unique editing features. The software is easy-to-use, which helps users of all skillset able to produce and edit high-quality skilled videos. The software also contains a large selection of customizable design tools that are helpful in helping editor make a good combination of video footage. Alpha transitions, particles, PiP objects help editors of all skillset the ability to perform professional-grade editing and great quality videos. Be it high-end or basic level editing; Power Director sure gives the users some amazing content.
Features of Power Director
Vector Shapes: The software allows users to make many customizable vector shapes for their videos.

Keyframe Controls: The software comes with auto-fit text and keyframe control that is a perfect fit for video exporting in platforms like YouTube.

Grading: Videos of all grade can be edited in this software seamlessly without any glitches.

Formats: Power Director also allows videos of HEVC 10bit HDR10 & HLG, ProRes 10bit 4:2:2, XAVC 8bit 4:2:0 and MXF AVC 8bit 4:2:0 grade is also accepted in this software.

4K Resolutions: 4K quality videos can also be edited seamlessly in Power Director.

Preview before Export: Editors can also preview their footage in 4K quality before exporting.

Audio Scrubbing: Audio Scrubbing feature helps users to drag audio to the scene required while the audio is being played.

Ratios: Users can edit videos in 1:1 square ratio, which helps in creating content for social media.

Animation: Preloaded animated motion titles help give videos a professional look required.

Repurposing Old Projects: Users can repurpose previous project files in your new ones. Embed them into scenes with keyframe control to scale, skew, rotate & even set opacity.

Time Duration: Reversible Timeline Track Order helps users to timeline tracks in any direction as to optimize the workflow.

Transcoding: The software supports the transcoding of a full-frame in a single track or tracks.

Moving: Users can move and resize painted objects in their video frame.

Images: Images can be saved in both JPG and PNG formats.

Zoom Features: Users can make use of the improved zoom and crop tools for more enhanced video editing.

Thumbnails: Users can now save their projects with extra-large thumbnails.

User-Control: User can also control the look of the software for a more hands-on experience.

Audio: Power Director 365 users can also make use of making a enhance the audio experience with professional grading of audio and also music in order to bring the project come to life with better audio tracks and seamless music.
Installation Requirements for Power Director
To install Power Director on PC, make sure that the following requirements are met.
PC – Make sure that your PC is on Windows 7 or higher with at least 4 GB of RAM.
How to Download Power Director on Windows
Follow the below steps to download and install Power Director on your PC:
Go to Power Director's website, and to the download links.

Click on Download Now.

Select 'Save' to download the program. The file will be saved in the Downloads folder.

If you want to save in a specified folder on your desktop, then click on 'Save As' and select the folder you want the program to be saved.

After the download is complete click on the .exe file.

The installation process will start.

Run the installation package.

Wait until the update completes

Follow the Windows installation instructions and select options accordingly.

Click on Finish to complete the installation.

The program icon will appear on the desktop.

Select the icon to start the application.
You might also like