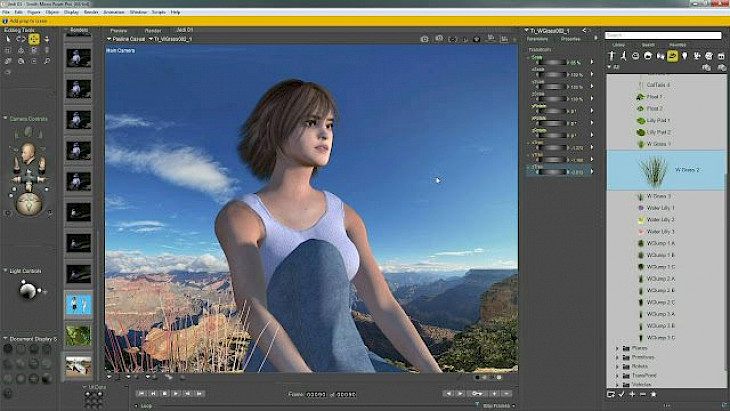 Download Poser Pro
Poser Pro is a 3D rendering and animation software developed by Bondware. The software was released in 1995 and was designed to optimize 3D modelling of human figures. With the help of this feature, users are able to produce basic animations and digital images which comes along with extensive availability of third-party digital 3D models. Due to this feature, the software has gained a lot of popularity among users.
The software is available in both Windows and Mac and comes included with multiple languages.
Features of Poser Pro
UI Scaling: The software is equipped with additional UI scaling that allows users to work much easier on high DPI displays and allows easier accessibility for users with limited vision. This feature is also helpful for users who work on 4K screens as working on 4K monitors sometimes becomes frustrating after resolution scaling.

Content: The software is equipped with a library of in-built ready-to-use content, including body, props, hand poses, materials, cameras, facial expressions, hairpieces, lights, and scenes. The software is also equipped with a Reyes-based render engine called Firefly, which also supports nodes for enabling the creation of complex materials. Additionally, the software also contains sound, image, video files, and also motion capture data and 3D content for the creation of scenes or the addition of new library items.

Improved Scene Manipulation Performance: This feature allows users to revamp the scene in order to enable users to render the animations in real-time without glitches.

Revamped Direct Manipulation Tool: This feature also allows users to directly revamp the entire animation sequence in order to process smooth renders.

Auto-Save: The auto-save feature in the software make sure that none of the data that is being worked on is ever lost by the user in the event of a power or data loss.

Master Synchronized Morph Dials: This feature allows users to synchronize their morph dials designs on their figure along with a master synchronization.

Subdivision-level Morph Targets: This feature allows users to have more divided points on the design's morph targets, allowing users to put on more detailing on their design.

Improved Subdivision Surfaces: This feature allows users to have more inputs in surface detailing, enabling users to put more flexibility and clarity on their designs.

Vertex Weight Painting Constrained to Material Groups: This feature allows users to paint in a vertex mode that allows flexibility to paint on material groups.

Figure Symmetry Improvements: This feature allows users to have much better symmetric calculations on their designs so as to allow many realistic and perfectly calculated designs.

Control Handles: This feature allows users to have a more hands-on approach with better controls to enable flexibility on handles.
Installation Requirements for Poser Pro
To install Poser Pro on PC, make sure that the following requirements are met by the user in the PC desktop.
PC – Make sure that your PC is on Windows 7 or higher with at least 4 GB of RAM.

Compatibility Mode is enabled.
How to Download Poser Pro on Windows
Follow the below steps to download and install Poser Pro on your PC:
Go to Poser Pro's website, and go to Downloads.

Click on Download Now.

Select 'Save' to download the program. The file will be saved in the Downloads folder.

If you want to save in a specified folder on your desktop, then click on 'Save As' and select the folder you want the program to be saved.

After the download is complete click on the .exe file.

The installation process will start.

Run the installation package.

Wait until the update completes

Follow the Windows installation instructions and select options accordingly.

Click on Finish to complete the installation.

The program icon will appear on the desktop.

Select the icon to start the application.
You might also like