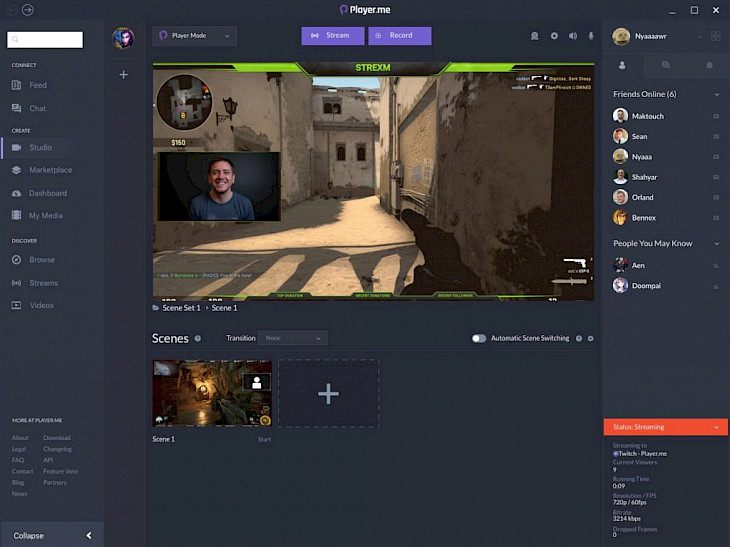 Download Player.me Desktop
SplitmediaLabs proudly launched a platform for game lovers who love to create and play games on their smartphones, tablets, or PC. With flexible easy-to-use tools, this game development platform is designed and launched with the name Player.me. If you are a gamer or a developer then, on the player.me you will find everything you will need to create, discover, and grow your audience.
Using various impressive features and customizable themes, you can create professional and engaging gaming streams for your audience.
FEATURES
For an extremely professional-looking stream, you can use this software to record your gameplay and edit the same by using various tools and features available on this platform.

This platform offered hundreds of templates to its users to designed their streams effectively and pleasantly.

The player.me platform has an integrated video editor that allows you to easily edited your uploaded videos.

By using social features, you can reach and connect with a wide range of audiences.

This software allows you to track your gameplay across all your games without putting in any extra effort.

You can use this extremely beneficial platform absolutely free. Player. I provide an updated and live customer support that you can use anytime and anywhere globally.

If you are a pro gamer or developer then you can use this platform to showcase your live stream, video, and achievements to the audience or your viewers.

You can use this software as a discovery or searching tool to find other players or teams of your choice or interest.

This platform will provide a game page to its users, which they can use to show off how good they can play.
How to Download Player.Me Desktop on PC?
Player.me is a good platform for live game streaming or showcasing your game skills but it also helps you find other players or teams. To extend your gaming network, you can play along with other individuals who have the same interest as yours. The game streaming experience would be more tremendous on a big PC or desktop screen. To run this software on your system, you can directly download the PC version of Player.me.
This software can be easily installed in Windows 7, 8, and 10 operating systems. You will need to follow the instructions carefully.
Step 1: Once you have downloaded the setup file, follow the step-by-step guidelines and instructions to run this software on your system.
Step 2: After following all the steps, click on finish, and now you can use this user-friendly software on your PC.
With 24/7 customer support, this platform is one of the most preferred and reliable platforms for every gamer.
You might also like