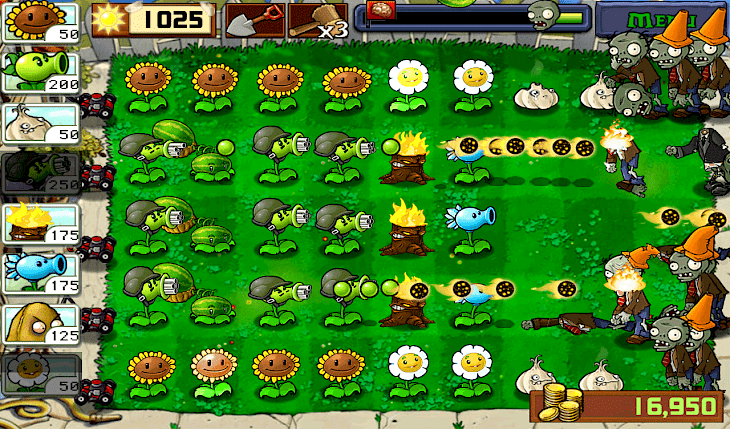 Download Plants vs. Zombies
Strategy games are getting quite popular as it tends to take up much of your time deciding how you need to win the game. It's more of predicted what your next move would be to get the final outcome of the game. Though there are some notable titles in the market, the genre never seems to disappoint, and there are multiple titles that have created a name for themselves.
Amongst these prominent titles, the overall agenda of making it vibrant, elegant, and attractive is constant. Though many roots for such orientations, other games make it quite colorful with simple agendas on the list and a lot of brainpower to win the game. We have on such a title for you here today.
What is Plant vs. Zombies?
Plants vs. Zombies is a strategy-oriented game where you have to save your house from the zombies' intruders. It's a simple agenda, but then the gameplay is kept around a line-based approach. Here there are 6-7 lines where zombies would be coming. Your only option of retaliating is through plants. Place plants strategically to defend your household and protect it extensively for a grander appeal in the game. There are many modes to such a gameplay orientation, and it has been a Larger success amongst the gamer community regarding what it has to offer.
Key Features of the Game
The game comprises different gameplay options such as adventure, survival, puzzles, and more to keep users engaged in trying out everything that the game has to offer.
The game's overall structure comprises 26 different types of zombie attacks, with each level making it that much harder to kill them and 49 powerful attacks that you can use on zombies to eliminate the threat.
The entire graphics of the game is simple but unique. There is no 3D realism, but then it's more like a cartoonish theme and makes it playable and enjoyable at the same time.
Minimum System Requirements
OS – Windows 7 or higher

RAM – 1GB

Storage – 100MB

CPU – 1.2GHz+ processor
How to Download and Install it on PC
Head to the Microsoft store on your computer
Click on the Microsoft store and search for the game. It should be there with many other related titles.
Hit the install button. You will have to buy it based on the region, do the necessary, and leave the game to download and install.
Enjoy playing the game in the best possible manner through your computer.
You might also like