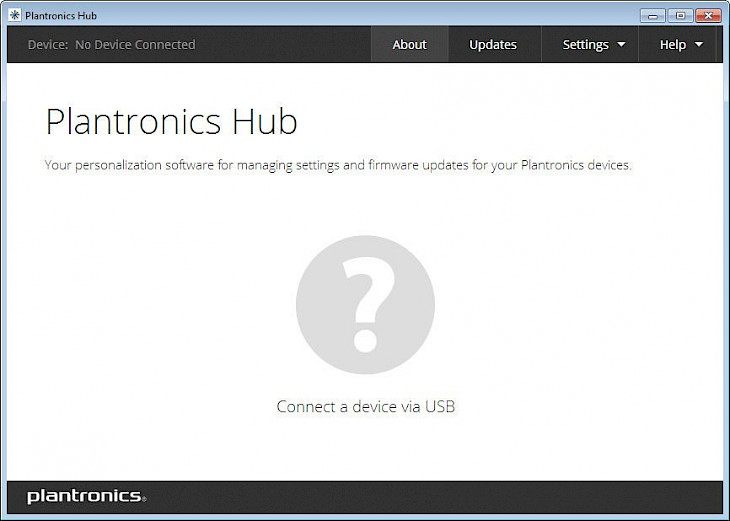 Download Plantronics Hub
If you are one of those people who love to listen to music then, of course, you will also prefer some specific headset brand. Listening to music with a headset or headphones is a tremendous experience. Plantronics is one of the leading brands of manufactured headsets or headphones. To control and operate the setting of all the Bluetooth audio devices of Plantronics, these brands i.e., Plantronics Inc developed and launched a controlling tool application named Plantronics Hub. This excellent application is downloaded by more than a million users to bring additional functionality to their devices with the help of various features available on this application.
FEATURES
You can locate your headset by the Find Myheadset feature. This advanced feature helps you to identify your misplaced headset.
Plantronics hub helps you to check the battery status of your headset so that you can charge it timely and listen to your favorite audio track without any interruption.
For convenience, this application helps you to change the language option to access your voice prompts.
This application has various great features. Plantronics allows you to update your headset firmware in just a few clicks by using your smartphone or PC.
This application works as a display screen to explore not only the features of your Plantronics headset but can also to see the status of your audio devices.
REQUIREMENT
Plantronics has a wide range of devices including Poly Sync 20, Voyager Edge UC, Voyager 6200 Series, and many more. Plantronics Hub is the best choice for all those users who are using the Plantronics headset range. You can install this amazing application on your smartphone or system. But before downloading make sure that you should check the minimum system requirement.
For smartphones, it is compatible with both Android and Mac operating systems. on the other hand, for Windows make sure that you have Windows 7 or later version of the Windows operating system on your PC and provide the necessary permission to this application.
HOW TO INSTALL?
Plantronics offered and developed a wide range of devices. Each device has its features. You cannot expect all features on all devices. You can use Plantronics Hub to identify and customize the features of your Bluetooth audio device. The PC version of this application is not available, but you can use Plantronics Hub on your system by using the android emulators.
To download Plantronics Hub on your Windows operating system, follow these step-by-step guidelines described below –
Download the setup file for an emulator.
After successfully installing the emulators, launch the emulator whichever you have installed either bluestacks or nox

Once it has launched on your PC, open the Play store app in the same, and log in with your Google account. In case you don't have your google account make the one.

When you successfully log in, search "Plantronics Hub" in the search bar of the Play store. A list of apps will display in the search result.

Select the Plantronics Hub icon and click on the install button.

Once done, now you can use this application to operate your Bluetooth audio device.
You might also like