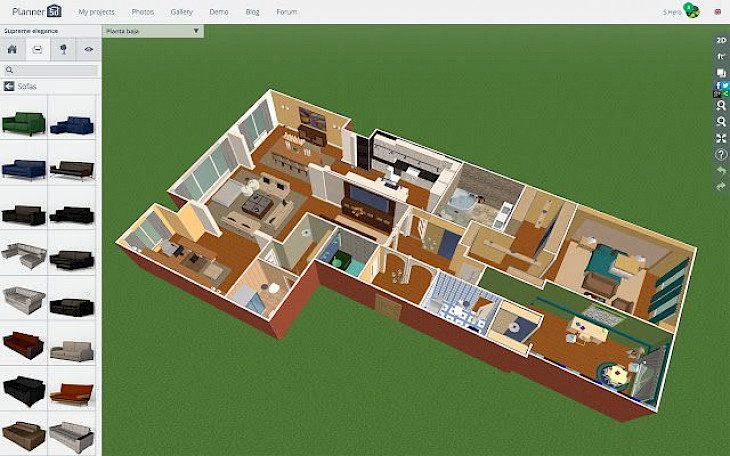 Download Planner 5D
If you are willing to design your dream home, then you can use Planner 5D. Planner 5D is designing software that helps the user design stunning and unique 2D and 3D views of their dream home. Enhance your designing skills and be your own interior designer by using this fantastic platform on your PC.
This superb application allows you to perform various activities, from designing floor plans to viewing your project from multiple angles and elevations levels. Planner 5D is the most reliable and fantastic platform for you. To make your design more pleasant you can transform your designs or 3D projects into an HD pictures collection. The rich library setting features provided by this software help you to customize the home's interior and exterior. Use your imaginations and creativity and give a real picture to your ideas.
From selecting the furniture to the electrical appliances, this platform offers the most advanced features to give a more realistic image to the user.
FEATURES
Envision, create, and explore
Design your dream home by using the various tools offered by this fantastic platform. While designing, you can arrange, edit, and apply custom surfaces and materials.
Bring your Projects to life
This fantastic software allows the user to create realistic HD pictures of their designs. The rendering enhances the original 3D image to display realistic shadows, rich colors, and lighting features.
Digital catalog
You can enhance your home's coziness by selecting the relevant items from the catalog and using the same while designing your home. This amazing catalog has more than 5000 items so that you never run out of ideas while creating your design.
Create on your device
You can use this fantastic platform without an internet connection. You will need to download this program and start your designing process. Planner 5D enables the user to save their projects and create realistic HD snapshots easily.
Native Design
This fantastic platform is user-friendly and can be used easily on your PC.
Multilanguage
You can explore this platform in your native language without any interruption.
Switch between Metric and Imperial system of measurement
Completely Ad-free
How to install Planner 5D on your Windows Operating system?
Planner 5D is an effective platform for the business owner, interior designers, or anybody looking to do an interior or exterior project. The tools and features offered by this software are powerful to provide stunning 3D home designs. To install Planner 5D on your Windows operating system, you will need to follow the instructions described below.
Step 1: You can download Planner 5D by visiting the developer's official website.
Step 2: Alternatively, open your browser and search "Download Planner 5D for Windows" in the search box.
Step 3: You can choose any trusted websites like filehorse.com from the search result page to download this fantastic game.
Step 4: Once the downloading is completed, click the setup or .exe file twice to start the installation process.
Step 5: Follow the instructions and guidelines very carefully.
Step 6: When the process is finished, the Planner 5D icon will appear on the desktop.
Step 7: Click on the icon and use this fantastic designing software on your system.
You might also like