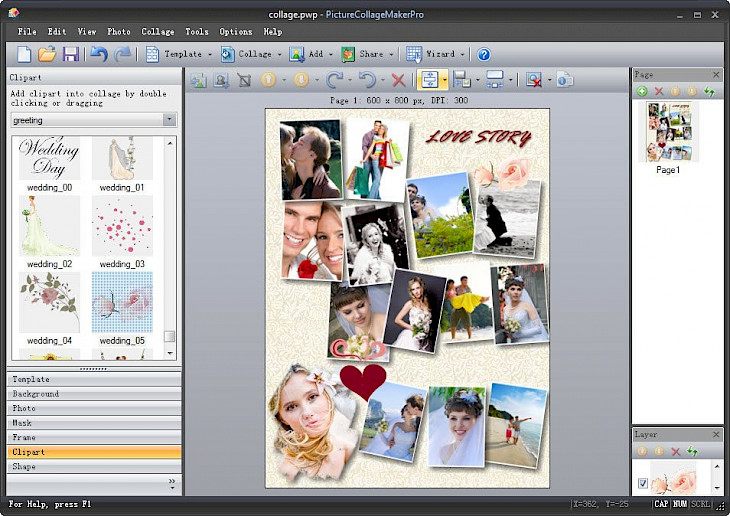 Download Picture Collage Maker
In this modern digitalization era photo collage is the best way to represent your ideas and memories more pleasantly. A perfect photo collage software will allow you to create the collage, scrapbook, greeting cards, invitation cards, and posters to share with your friends and family on special occasions and the festival season, of course.
Developed by Pearl Mountain Technology, Picture Collage Maker is easy to use and well-designed interface software that offers you various free templates, tools, and features to create the enormous and fantastic photo collage in just a few minutes.
FEATURES
Fast and easy to use
Either you are a beginner or a professional, this picture collage maker is the best choice for different users of all experience levels. You will get a real-time preview of your creative design at high speed.
Professional templates
To make your card and collage pleasant, this software will provide a wide range of templates. You can use these 100+ templates to make your collage easily and without consuming much time. You can use your unlimited creativity to design the festival cards and posters in your own way.
Personalization
You can perform various edit functions on this software and it allows you to customize the size of your photo collage to A1 size and even more extensive. You can crop the photo and set up the image position according to your convenience in just a few clicks.
Decoration feature
You can enhance your collage and design by using various background patterns, frames, and clipart from the special artistic effects to beautify your piece of work. This software allows you to add text and adjust your text at various angles to make the photo collage more embellish.
Share your work
This software allows you to print your creativity and personalized cards freely. Picture collage maker has this great feature that helps their users save their collage in various formats and share the same with their friends and family.
How to Download Picture Collage Maker on Windows?
Picture collage maker is ideal for making a collage and creating beautiful artwork for websites, greeting cards, and many more. You can realize your creativity and can design amazing artwork by learning your incredible freedom. The user manual on this platform will guide you and help you perform a multi-step undo/redo system.
You can enjoy working on this creative software on your big PC screen. Thankfully this fantastic software is available in the PC version and you can easily download and use this photo collage maker on your windows 7, 8, 10 operating systems.
You can download the setup file or .exe file directly from this page.

Once you have downloaded the setup file, follow the step-by-step guidelines and instructions to run this software on your system.

After following all the steps, click on finish, and now you can use this user-friendly software to use your creativity to design unique cards and collage.
Picture collage maker is available for a 15-day trial version. You can access this software's features and tools by using this free trial version and then update this application software according to your convenience.
You might also like