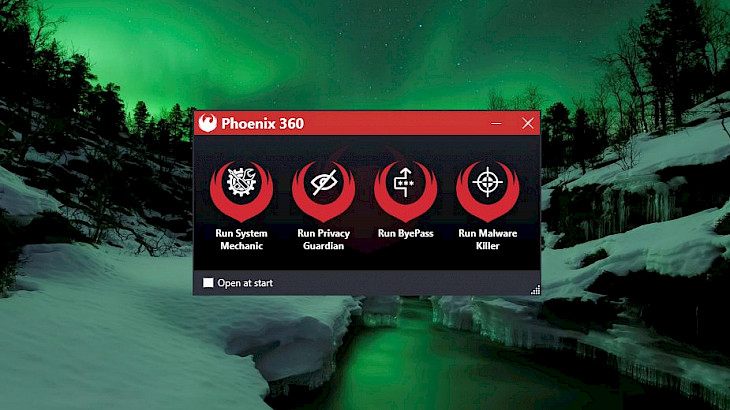 Download Phoenix 360
Phoenix 360 is a significant circle that incorporates all of iolo's important products in its radius. It is a one-of-a-kind software optimization package, one that will fulfill all your security needs. You need never look at other CPU optimization software again. The four products that constitute this utility package are iolo's finest innovations: System Mechanic, Privacy Guardian, ByePass, and Malware Killer.
Key Features Of Phoenix 360
Secure Your Passwords
This is one of the most common means of stealing credit card information online. It is important to think twice before relying on sensitive information on company websites. Not all of them are as secure as they seem to be. Phoenix ensures you don't stumble into these digital traps. It protects your passwords from being misused by websites.
Curb Malware Growth
You never know when an application can sneak malware into your system. This is why it is better to stay vigilant at all times. If an especially undetectable virus manages to infiltrate your system, Phoenix will make sure to flush it out before it can cause irreparable damage.
Recover Lost Data
Remember that important file you unintentionally deleted months ago? Well, now you can retrieve it using the powerful Search and Recover feature of Phoenix 360. Images, videos, documents, whatever the files that you deleted ages ago, you can bring them back to your drive with a few clicks of your mouse.
Shield Online Activity
The digital era we live in has coerced us to do everything online, Shopping, transferring money, buying courses, and working too. So you shouldn't be surprised to know all your online activities are being tracked. Sometimes, the tracking is done for analytical reporting. And sometimes, it is used to steal information. The wings of Phoenix 360 wrap around you, effectively shielding you from harmful online trackers. This way, you can continue to surf the net safely.
Optimize PC Speed
The routine PC check-ups ensure garbage files are removed from the memory storage. Additionally, the malware detector destroys viruses before they can make themselves at home. This winning combination optimizes the speed of the processor.
System Requirements Of Phoenix 360
Make sure your system meets the following requirements to enable smooth running of Phoenix 360
You should have one of these operating systems installed: Windows 7/ Windows 7.64/ Windows 8/ Windows 8.64/ Windows 10

You should have an Intel Core Processor or greater.
How To Install It On PC
To download the software on your system, follow the given steps:
Click on the 'Download' button. This directs you to another page that has a 'Start Download' button. Click on that as well.

Consequently, you will be taken to the official site of iolo technologies. Click on the download button if you have bought the package already. If not, then buy the software first.

The .exe file will be downloaded on the system. Run this file according to installation instructions.

Finally, Phoenix 360 will be installed on the system.
You might also like