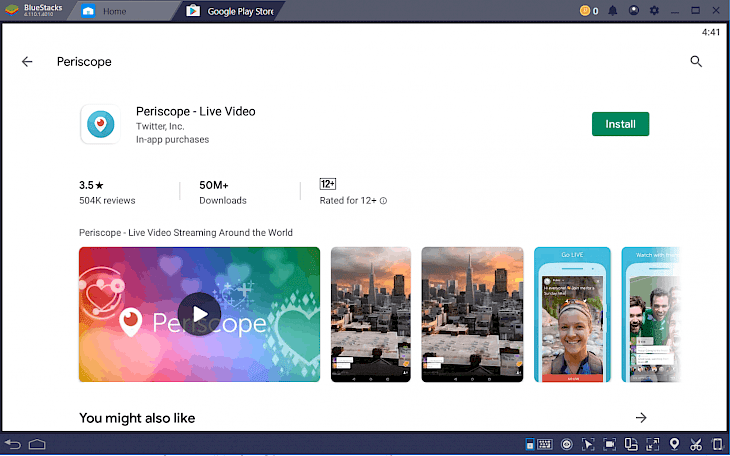 Download Periscope for PC
Nowadays in this era of social media and networking where most people use YouTube and Facebook, there is an application that provides a tremendous streaming experience to its users. You can explore the world by watching live broadcasts and videos on the Periscope app which is developed by Kayvon Beykpour and Joe Bernstein and acquired and launched by Twitter Inc.
This application is one of the best live video broadcasting apps and very popular among social media users as it is integrated with Twitter itself. Although this app is not developed for Twitter only, this app allows you to share your videos on other apps also including Facebook, Instagram, and YouTube. Connect with your friends and followers with this amazing app.
FEATURES
Easy to use
With easy to use interface Periscope allows you to instantly share your live video or broadcast on any social media platform including Facebook, Instagram, Twitter, and YouTube in just one click without tangling in a long process.
User-friendly
If you are willing to share your live video with some specific followers or friends then this app offered you to maintain your privacy and broadcast your videos to only those specific people.
Explore the world
By searching streaming and live video forecast of any location or topic you can explore the world and discover exciting and new things of your interest everywhere. In the upgraded version you will find a system of trending which provides the latest videos to let inform you what's interesting around.
24-hour only
Periscope has some great features and 24-hour only is one of them. If you are among those people who do not want their videos to stay on the internet forever then you can use this amazing feature to post your video for only 24 hours.
Build your Network
You can connect with your friends and people have the same interest as yours. You can follow and unfollow people from your network and whenever you go live your followers will receive an instant notification. You can also send this notification to specific friends and followers.
HOW TO INSTALL?
Periscope is a very interesting application available on the play store. Although it is launched for smartphones, you can enjoy its user-friendly interface by installing this application on your PC or Mac. Android emulators allow you to install mobile apps on your system. Before installing Periscope make sure you have installed emulator software first. You can use Bluestacks or Nox android emulators, both are considered as best and reliable emulators available for Windows and PC.
To install emulators, download the emulator and then follow the steps.
After successfully installing the emulators, launch the emulator whichever you have installed either bluestacks or nox
Once it has launched on your PC, open the Play store app in the same, and log in with your Google account. In case you don't have your google account make the one.
When you successfully log in, search "Periscope app" in the search bar of the Play store. A list of apps will display in the search result.
Select Periscope and click on the install button.
Once done, enjoy this application and explore the world.
You might also like