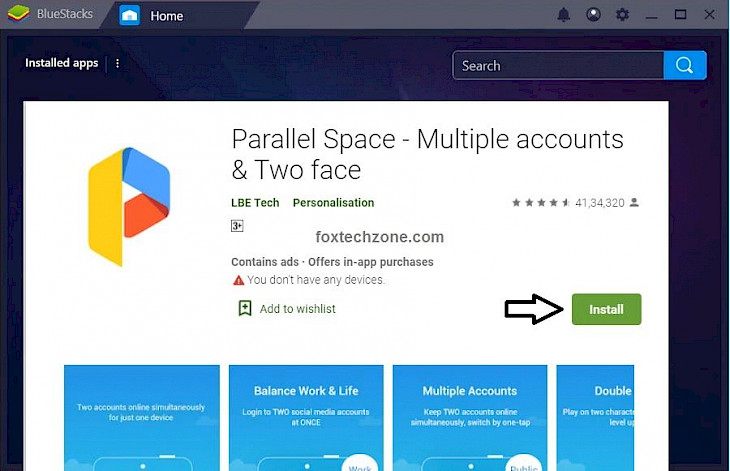 Download Best Way to Install Parallel Space Program on your PC
Are you willing to use multiple social networking accounts in your system simultaneously? LBE tech developed an application that allows you to run and use multiple accounts with separate themes to style your unique space. Parallel Space app has more than 30 million downloads and was first launched in 2016. It is one of the most popular and compatible apps which supports 24 languages. Parallel space is the first virtualization engine on Android. With the incognito installation features, it protects user privacy. The parallel Space app allows users to play 2 games and check 2 social media accounts at the same time. This app does not consume many device resources when it comes to memory space, battery capacity, and data usage.
FEATURES
Use multiple accounts simultaneously
Parallel Space Program encourages you to achieve a balanced lifestyle and provides an excellent gaming experience to the users. The application is developed in such an organized manner that the data from the individual account won't interfere with each other. It is powered by multiDroid and almost most apps are supported by this app.
Create a customized space
Parallel space has a theme store integrated into the application with a list of customized themes. You can use these unique themes to style your own space and you can easily change them in just one tap. You can assert different styles by using this versatile and user-friendly app.
Switch between multiple accounts in just one-tap
Either you are running two Facebook accounts, two WhatsApp accounts, or other multiple accounts, this app provides different memory spaces on the same device. For effective management across the accounts, you can quickly switch between them by simply tapping the app's switching function.
HOW TO INSTALL IT ON YOUR PC?
To install this extremely useful application on your PC, you need android emulator software. You can choose any suitable android emulator that matched your operating system. Bluestacks and Nox are considered as widely used and most popular android emulators software.
Click on the download button to download this software on your system.

After successfully installing the android emulator software, follow the step-by-step instructions to run the software on your system.

Parallel Space is available on Google Play so you have to log in to your Google account in the android emulator if you don't have an account, create a new one for free.

Search "parallel space" in the search box of the Play store and click on the install button.

Once the application is installed successfully, you can use it and can create multiple accounts on your Operating system.
You might also like