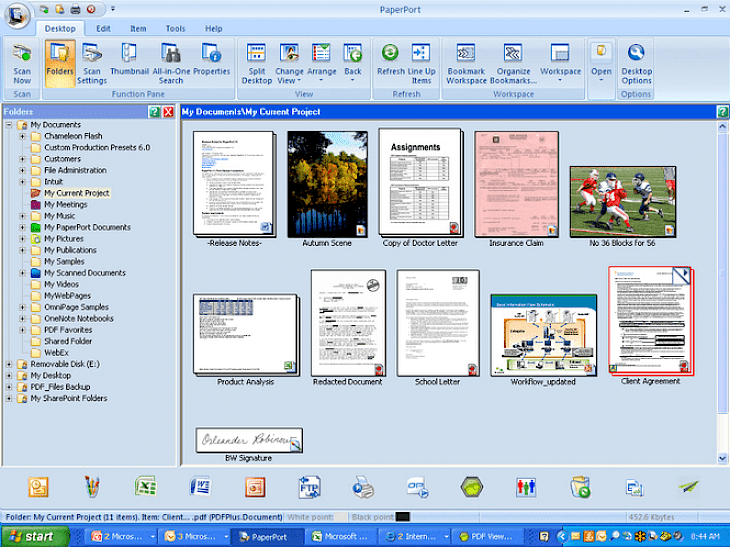 Download PaperPort
In a rapidly digitising world, paper is the one commodity that is used equally well on both a physical and virtual front. It is therefore vital to fine tune the online environment to adapt to paper technology like the physical world has. Paper technology is nothing but organising the document work, dealing with excel sheets and basically building solutions for all your paperwork. In the virtual world, this is highly digitized according to the needs. PaperPort is pillared on this kind of digitization. It provides a virtual desktop space to pull documents from stacks and organise them into neat files.

Key Features Of PaperPort
Manage Documents
Is your phone currently cluttered with documents from numerous sources? It must be overwhelming to sort through them, especially if you are a student. You get countless PDF notes everyday on your Whatsapp and now it has become a big pile. Don't worry, PaperPort will seamlessly sort them out for you. It is equipped with a powerful search engine that narrows similar PDFs together. This way, you can categorise your documents into different groups for easy access.
Make Easy Scans
The PaperPort software lets you make easy scans of images and documents that you can save on your computer.
Search Your PC
Using the software's powerful inbuilt search tool, you can hunt down lost files on your system, be it mobile or PC. It is natural for documents to get lost in a whirl of downloads and what not. Luckily for you, Paper Port sucks them all out for you and arranges them in a neat array of thumbnails. So what are you waiting for? Get those pesky documents in order using PaperPort.
Comfortable Viewer
You don't necessarily have to click open documents to view their contents. Rather, you can view them in a medium-size frame on the same window as the organised thumbnails. It is kind of like a gallery. Except that here, you will have to scroll through digital papers instead of photos.
Format Support
Anything that even virtually resembles a digital paper can be accessed on the PaperPort. It has great support for all kinds of formats. You don't have to convert your files to other formats just so to use them on the software. PDF, DOC, JPG, GIF and PNG are just few of the many formats that PaperPort supports.

System Requirements Of PaperPort
Ensure that your system meets the given requirement before you start the installation process:
It should have Windows XP/Vista/7/8/10 operating system (64 bit)
How To Download It On PC
To procure a safe and reliable download link for the software, head to the Download button

Clicking on the download button takes you to another page. When you click on the download button there, the setup's exe file gets downloaded.

Now run this file on your system. Follow all the installation instructions until you reach the very end.

When you hit the Finish button, PaperPort gets successfully installed on your PC.
You might also like