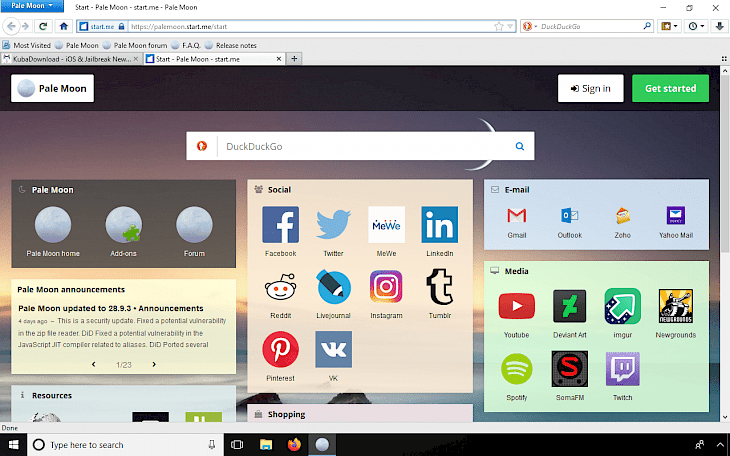 Download Pale Moon
Pale Moon is a powerful web browser for Windows and Linux that uses its own optimized layout and rendering engine (Goanna). The independently developed source that has been forked off from Mozilla Firefox code a number of years ago, it's optimized to improve the browser's stability and user experience.
Download Pale Moon for Windows and Linux and install the Goanna-based web browser. The application works on a 64 and 32-bit system and was tested to operate from Windows 7 and up to Windows 10 systems, and Linux. This web browser is focusing on efficiency and customization.
If you are searching for a new web browser that you can really on, you can definitely install Pale Moon. It's a great Chrome, Edge, or Firefox replacement offering a lot of features and support for all modern Web standards.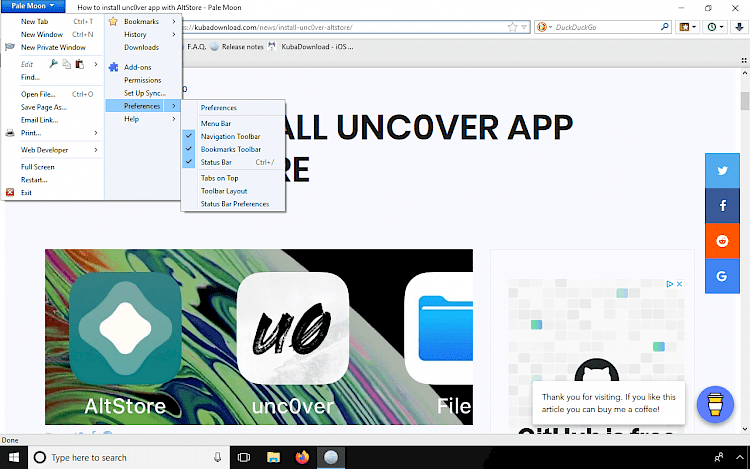 As mentioned already, Pale Moon uses its own rendering engine. Goanna is based on the Gecko engine but it behaves slightly differently in certain respects and may result in different displays of web pages. For example, the gradients are more accurate color space. It supports fully JavaScript's ECMAscript 6 standard.
Pale Moon browser is focused on optimization for modern processors, regular updates with the latest security patches from the Mozilla code, additional security features, and security-aware development, and smooth and speedy page drawing and script processing. It's available for Linux and Windows.
The web browser is also known best for total freedom for any element's design, easily-created lightweight themes (skins), fully customizable interface, superior gradients and fonts, and support for many amazing Firefox extensions.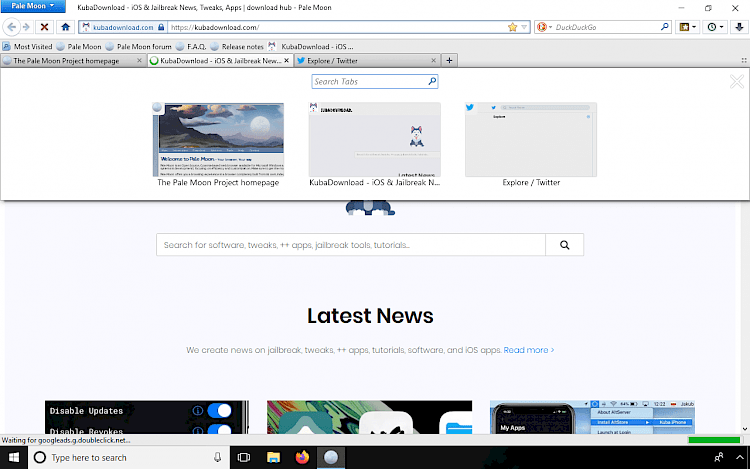 Pale Moon browser is an open-source project defined by its community. Because the code is based on mature Mozilla Firefox code, the browser is 100% safe. It's also quite secure due to custom security features and other security measures.
After you will download Pale Moon and install it on your computer, the application is immediately ready to work. No matter if you browse some regular websites or use advanced web apps Pale Moon supports it all.
What's more, if you will switch from Firefox, all themes are supported by default, so you can change the appearance of the browser easily. The web browser can't import Mozilla Firefox profiles due to the constant changes Mozilla makes and you should not do it manually. In addition, you can sync bookmarks, tabs, preferences, passwords, and history with Pale Moon sync feature.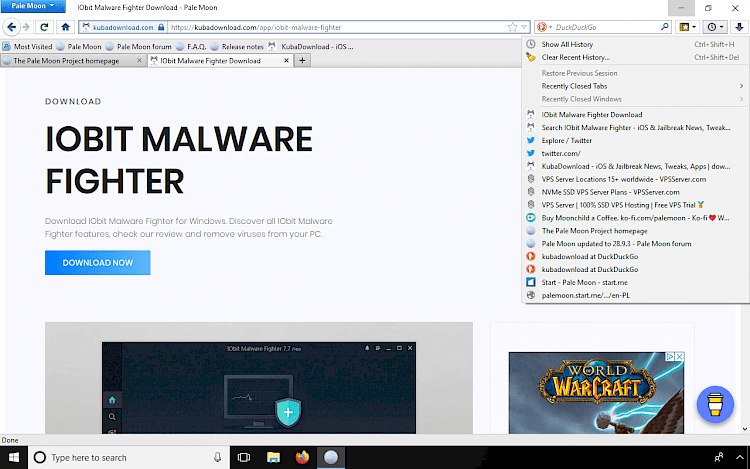 The web browsers support also extensions, the small add-ons that add new functionality to Pale Moon. Customize the browser to fit your own preferences. On the publisher's website, you can find add-ons to change the app appearance, add news feeds from RSS, extend the download manager possibilities adding support for downloading YouTube videos, Torrent files, and much more. If you are a Firefox user you will feel really confinable to move to Pale Moon.
Overall, Pale Moon is a very reliable and safe web browser for Windows and Linux users. I myself am a Mac user, and this is the only platform the browser is not available. Still, every time when I'm using Windows I find Pale Moon as a fast, stable, and useful browser. You can feel that the app is running faster than Firefox.
Changelog
Version 28.13
Updated the included site-specific user-agent overrides for a number of websites that need them.
Rewritten the browser's padlock code to use more modern APIs and provide more accurate security status indication.
Now also with localized tooltips!
Fixed a missing close button on the undo prompt after removing a thumbnail from the QuickDial new tab page.
Fixed an issue with the alternative stylesheet menu in the browser's UI not working.
Implemented the use of intrinsic aspect ratios for images to improve layout during load and page positioning.
Added a preference to the use of node.getRootNode and disabled by default. See implementation notes.
Added CSS -webkit-appearance as an alias for -moz-appearance to improve compatibility with websites that only try to use Chrome-specific keywords to style standard form elements.
Updated the SQLite library to 3.33.0.
Reinstated precise floating point precision model in JavaScript for those alternate builders who foolishly try to use the inaccurate "fast" model.
Improved spec compliance of modular JavaScript use (ECMAScript modules).
Changed media errors to be a more generic response, and added a preference (media.sourceErrorDetails.enabled) to enable detailed error reporting of media errors for debugging purposes.
Previously, detailed errors were provided by default which could lead to privacy issues.
Improved code stability of the AbortController implementation.
Fixed a race condition in the secure connection library (NSS).
Security issues fixed: CVE-2020-15664, CVE-2020-15666, CVE-2020-15667, CVE-2020-15668 and CVE-2020-15669.
Unified XUL Platform Mozilla Security Patch Summary: 4 fixed, 1 defense-in-depth, 1 rejected, 9 not applicable.
You might also like