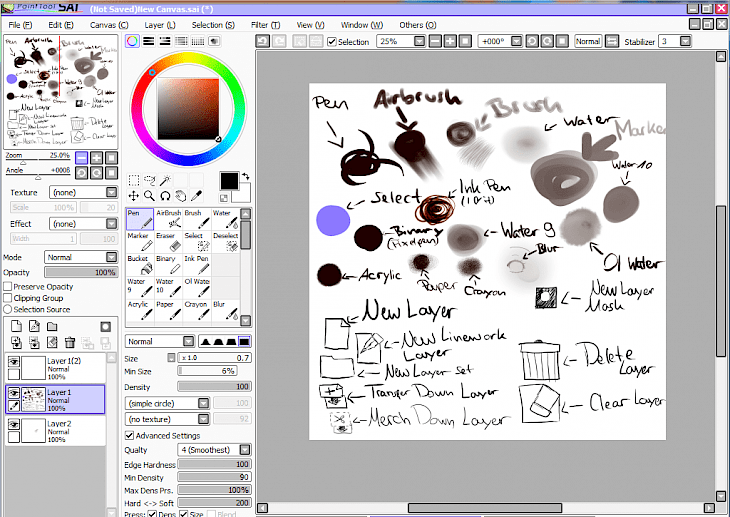 Download Paint Tool SAI
PaintTool SAI is a Microsoft-based painting software that was created by Systemax Software Development. Despite being a lightweight tool, Paint Tool SAI is well-furnished with an array of high-quality tools. These tools are used to create raster graphics on a digital canvas. Paint Tool SAI is best defined as 'art imitates life'. The digital art pieces created in its frame tend to be very realistic. This is because its tools are uniquely designed for achieving such a feat. Moreover, it has flexible controls. Users can opt to work with mouse or graphic motion pens, whatever suits their convenience. PaintTool SAI provides full-fledged digitized support, making it a favorite in online art communities like Dribble.
Key Features Of PaintTool SAI
Attractive Colour Palette
Colors are an important constituent of any painting app. The more vibrant the color wheel is, the more realistic touches can be given to the digital painting. Even a tiny shade of difference can make a big difference. PaintTool SAI provides users with a brilliant assortment of colors with equally diverse brushes. You can adjust the contrast, saturation, hue, and luminescence of a color. Experiment with the different brushes at your disposal to acquire unique colored textures.
Creative Liberty
The PaintTool SAI is just like a physical canvas. It gives full freedom to the users to venture into their artistic endeavours. The tool panel is well stacked and you never have to see your tools cluttered around. There is an edit menu that lists basic operations like cut, copy, undo and paste. This way, you can test your photo editing skills and craft your digital artwork to perfection.
Digitizer Support
As mentioned earlier, PaintTool SAI offers digitized support to its users, making it one of the prime reasons for its immense popularity. You can install it on any device you want, be it PC, tablet or mobile. If you are already working on a project on PC, then you can edit the same project from your phone. Use of a graphical pen is also supported. Any digital artist will greatly appreciate the importance of these two features.
System Requirements Of PaintTool SAI
In order to run Paint Tool SAI successfully, make sure that your system meets the following requirements.
It should have Windows XP/Vista/7/8/10 operating system.

The processor should be Pentium 450MHz or faster.

PC screen resolution should be 1024x768
How To Download It On PC
Follow the given instructions to download this painting tool on your system.
Click the download button that you see on the page.

The setup's .exe file will download on the system. Make sure that your anti-virus is disabled before you run it.

The setup window pops up. Follow the installation instructions that show on it. When you finally hit 'Finish', PaintTool SAI will begin to download.

In a few minutes, it will be fully installed on the PC. Now channel your inner Picasso via an amazing digital medium.
You might also like