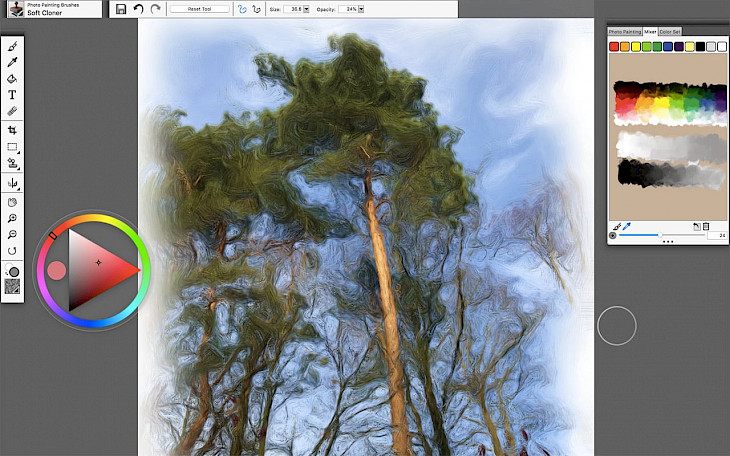 Download Painter Essentials
Painter Essentials is an app for painting with a set of over a hundred digital brushes, tools, paint, and textures appearance reflected a variety of paper types. The tool is a simplified variant of Corel Painter.
The program can be used both for painting extremely realistic digital images and create sketches or photographic processing.
Among the key features editor Painter Essentials worth mentioning access to realistic brushes are available in Corel Painter, the opportunity to work in layers, tracking and editing functions brushes traffic, generate and preview effects in real-time, converting graphics using tools scaling, transformation, etc., or paint in mirror mode or kaleidoscope.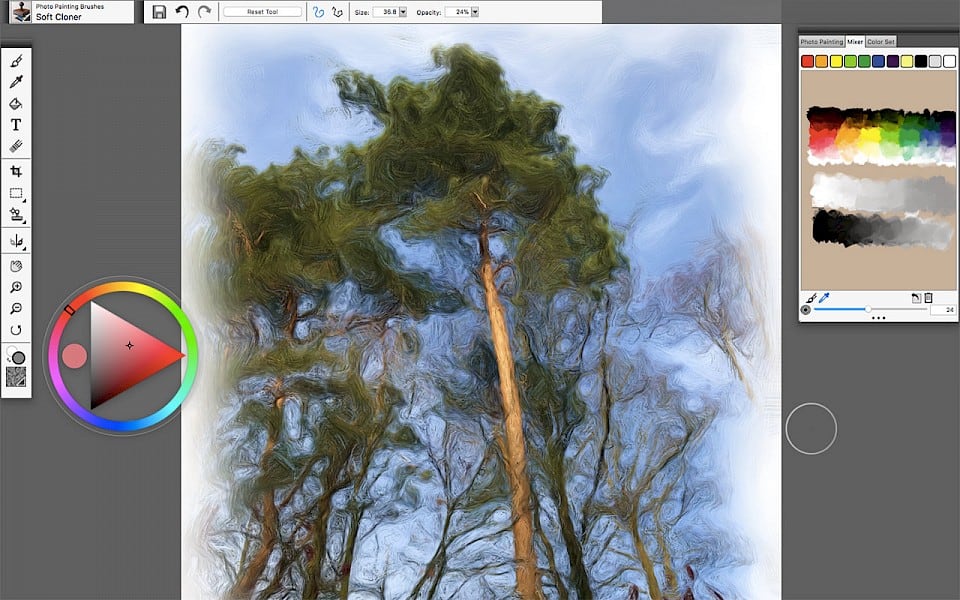 Painter Essentials also equipped with an interesting tool for drawing, particularly molecular brushes that have appeared in Corel Painter.
By using such tools we can create interesting effects, which can be helpful when painting natural-looking flames, clouds, light, smoke or fur.
When generating particles can also affect the pressure and angle of the pen while working with the tablet.
Another interesting feature borrowed from Corel Painter is a filter that allows you to manually or automatically exchange photographs into digital paintings executed indicated tools for virtual paper.
The user can generate an effect treated as a final result or a starting point for further editing graphics on the canvas.
When we launch Painter Essentials 6 we can see immediately the newly designed Welcome Screen.
You can create from it new documents and templates, choose from workflow UI layouts, access helpful tutorials, see what is new and exciting in the world of Essentials, view an inspirational art gallery and check out our brush packs for specific workflows.
Under the hood, we can feel improvements in speed and performance. Now Painter Essentials 6 offers improved memory management system, such as working on large canvases, plus zooming, rotating and working with layers, all at top speed. Equally important, your brushes will blaze across the canvas.
Other features of Corel Painter Essentials 6 include Natural-Media technology, enabling you to sketch perfect pencil for the job, choose from grainy, thick and thin and scratchboard tool variations.
Render your masterpiece using an exciting variety of Chalks, Pastels, Crayons, Charcoal including blunt, soft, square, tapered and jitter variants that will suit any task at hand.
Painter Essentials 6 offers functions to time-saving mirror tool for symmetry painting, smart photo-painting tools allowing Essentials magically paint the photo for you using Smart Stroke technology, and track and clone images with can be useful to sketch right over your photo using Tracing Paper as a guide.
You might also like