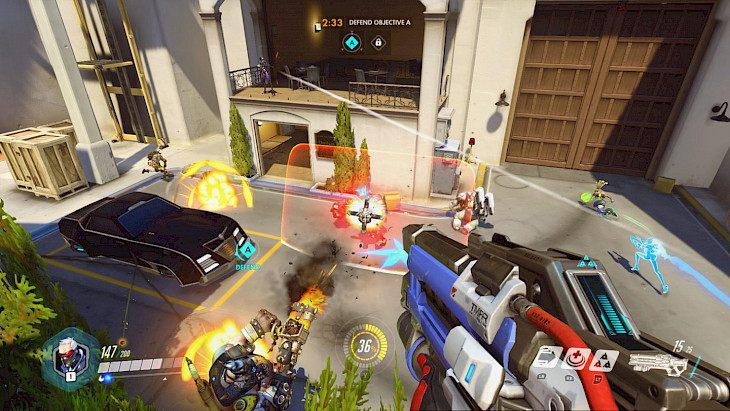 Download Overwatch
Shooting games have rapidly evolved in recent times, thanks to the demand that players are showcasing towards this particular genre. Because of elaborative gaming sessions and community lounges, certain games have become quite popular and allowed users to play/enjoy them quite differently.
However, in recent times battle, royal games have become extremely popular, but another shooting sub-genre has risen to fame where a limited number of players get on a battlefield and settle which team wins. Adhering towards this side of things, we have one exciting game that would entice a few into trying it out.
What is Overwatch?
Overwatch is a team-oriented shooting game that lets users create a 6 and head team onto battle with another team comprising similar players. The difference is that you get to choose different characters, which are highly detailed and offered an interesting overview of the game. Furthermore, each character is entirely customizable, and the more matches you win, the more special effects, power boosts, and more you tend to unlock.
The game comprises no levels or anything, but then it's a multiplayer game where you can team up with other players online and battle it out to see who comes on the top. Unfortunately, the game is only available on the Windows platform, and it's developed and published by Blizzard.
Key Features of Overwatch
Different Hero's to Choose From
The first step of the game is to choose the type of hero you would want to choose. There are so many to choose from that you can get confused. There are hero's who are segregated into a tank, damage, and health. Each one has its ups and downs. Ensure that you choose your character wisely for optimal results.
Different Gameplay Methods
Playing overwatch can be availed through different game modes. These modes include arcade, practice range, competitive play, custom game, play with AI, quick play, and more.
The workshop is where you can set your imaginations free about how you would want to play the game. Users can customize the entire gameplay based on their preference and even create new inspirations of characters and other things to save and share them publicly online.
It's a way to commemorate other players from a team to the effort they put in when they played a match. These tags include shot called, sportsmanship, and a good teammate. It's more of an encouragement than anything else.
Minimum System Requirements
CPU – Intel Core i5 or higher

OS – Windows 7 or higher

RAM – 8GB or higher

Storage – 45GB or more

Graphics – Nvidia GeForce GTX 1060 or higher
How to Download and Install it on PC
The game is available on the official website of overwatch. Download it from here by paying a small one-time fee for the game. Sadly, the game isn't free, but it's worth every penny you might pay for it.
Once downloaded, then open the installation files and set up the installer, following every step as showcased on screen for a successful installation.
After successful installation, enjoy playing the game to suit your preference.
You might also like