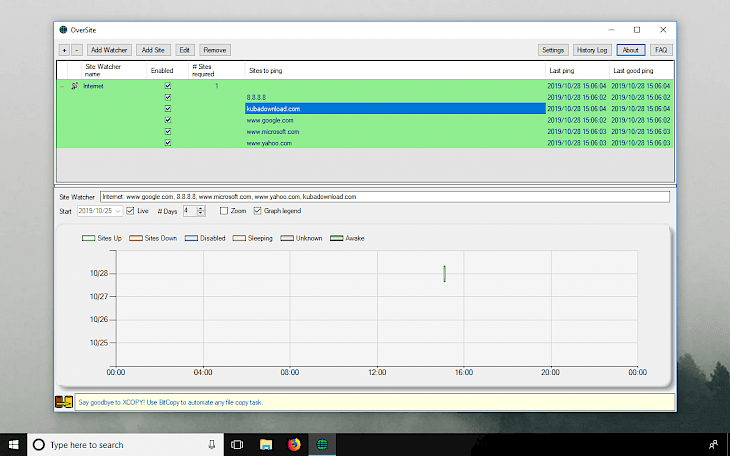 Download OverSite
OverSite is a very useful tool to monitor internet connection or any website. Track when your internet connection was up or down, by monitoring well-known sites. Use the app to monitor any number of web sites to see a timeline of when they are up or down. Download OverSite for Windows.
When you are losing traffic on your webiste it can be related to the hosting provider that doesn't make your website up and running all the time. Downloading software like OverSite you can constantly monitor an individual computer's IP address to see when it is online or offline.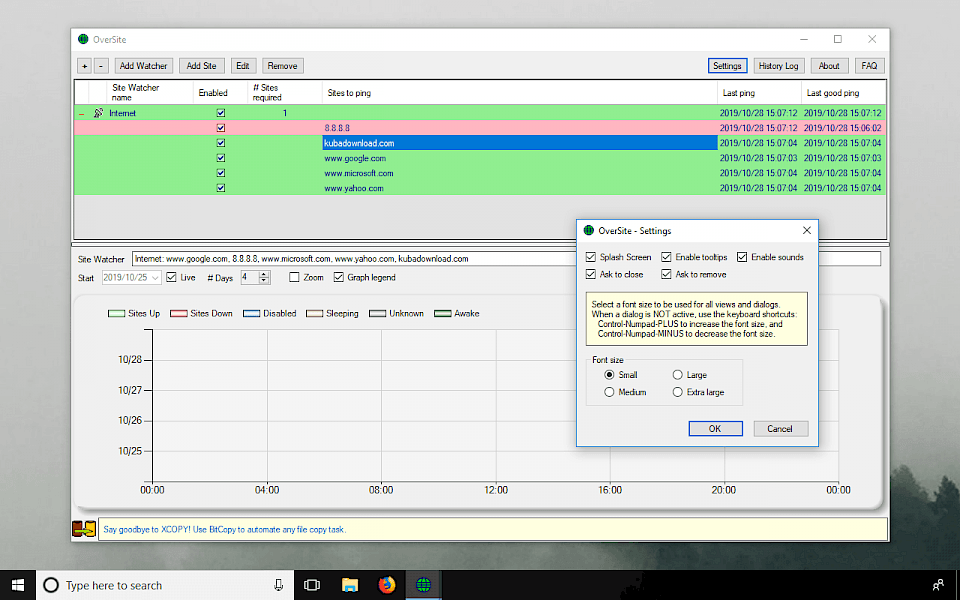 OverSite uses Internet Control Message Protocol (ping), a lightweight mechanism to determine if a website is up or down. Add, edit, and remove websites. The software works in the background monitoring all websites and generating graphic legend of the timeline of all connections.
The monitoring application can work with any provided website just as long as it accepts pings. Furthermore, the website must be a hostname or an IP address, and the site cannot start with the http or https prefix. When you will add a new webpage all informations are provided on how to use this feature.
OverSite is packed also with a history log of all operations, settings pane from where you can change the default font size, and disable options like splash screen, tooltip, sounds, ask to close and remove. Multiple Watchers can be also activated from the app interface.
If you have issues with your internet provider OverSite can be also a handy tool to check the Internet connection and determinate on the timeline how often the internet is disconnected. Detect the problem, and try to find a solution, or switch to different internet carrier in your area.
You might also like