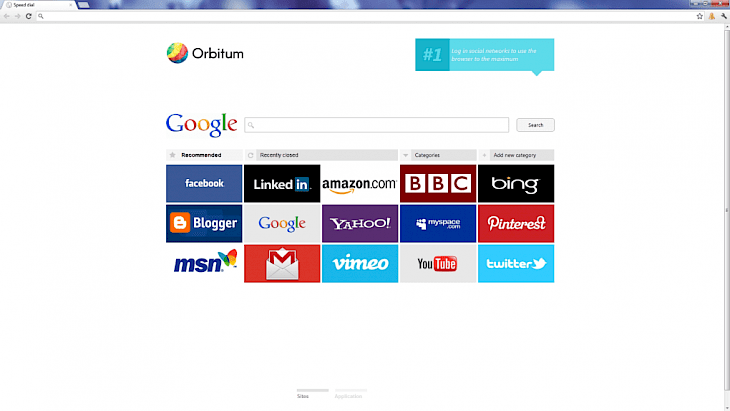 Download Orbitum Browser
In this modern-technical world, internet browsing and surfing are a necessity for people. To provide a better browsing experience, various software developers come forward and launch multiple web surfers. Orbitum is a beneficial social browser for those who have their account on different social media networks like Facebook, Instagram, etc. You can use this fantastic and fast browser for instant messaging. The interface of Orbitum is organized and fascinating for the users.
The functions and customized options of this browser are quite similar to Chrome. You can use a browser and surf multiple websites without too many glitches. You can have an enormous browsing experience across various social media platforms. The inbuilt adblocker and chat feature of this excellent application prove very useful for the users. Orbitum has a wide range of features that provides richer functionality and a superb surfing experience.
FEATURES
Optimized for speed
This excellent browsing application loads your favorite social media network websites faster in just a few clicks. Orbitum also reduced data storage.
Ad-Blocker
The ad or banner that appears suddenly on your screen can be irritating sometimes. This amazing social browser comes with an inbuilt ad-blocker and helps the user eliminate annoying and fraudulent advertisements or pop-ups.
Autosuggest
You do not have to write the whole keyword in the search box while searching for something. The browser will understand the users' choice from the URLs first letters you have entered and show the relevant results.
Voice Search
You can search your preferred site without typing. Orbitum offers you this voice search tool, in which you can use Google voice search technology instead of typing.
Quick Access
You can quickly access your favorite site with a single tap. This excellent social browser is designed in such a compelling way that every new tab has a set of your favorite websites that you can visit without wasting your time.
How to download Orbitum on your PC?
Orbitum helps you to manage all your social network accounts on one reliable platform. This excellent software is an android application fortunately, its PC version is also available. You can download this praiseworthy innovative application on your Windows operating system directly from any trusted website by following a simple installation procedure.
This fantastic social browser is the perfect tool for an excellent and wonderful web experience. For seamless integration with the social network, this is a useful platform for you.
Step 1: Open your browser and search "Download Orbitum (2020 latest version) for Windows" in the search box.
Step 2: You will get a list of various trusted or published websites like filehorse.com on your search result page. Choose any of these websites to download the software.
Step 3: Once you download the software on your system, click on the setup or .exe file to start the installation process.
Step 4: Follow the guidelines and instructions very carefully to run this software on your system successfully.
Step 5: Once the installation procedure finish, you will see the Orbitum icon on your desktop screen
Step 6: Click on the icon to open this social browser platform on your operating system.
Orbitum is available for 32-bit and 64-bit operating systems and you can use this browsing application without paying a single penny.
You might also like