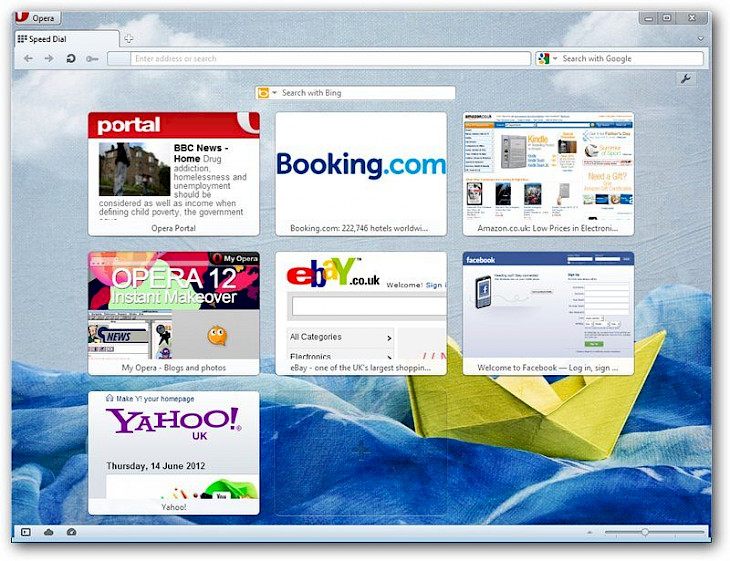 Download Opera 12.17 (64-bit)
To provide an enormous surfing experience, a wide range of internet browsers is available. For Windows, Opera is one such browsing software that provides a fast and efficient browsing experience to its user. The user interface is organized and can use easily.
Opera 12.17 (64-bit) enable the user to combine browsing and email in one application. To load the website faster this excellent browsing software, provide a ton of tools and features.
FEATURES
Sync mode
You can quickly start your browsing from where you left off. This magnificent software allows the user to have open the tabs and access the bookmarks on your operating system in just a few clicks conveniently. This excellent browser is also available for mobile devices.
Personalization
To get the best browsing experience, you can give a personal touch to your browser. Personalization can be done by downloading extensions and themes from the app's add-on catalog tool integrated with the software that provides more than one thousand extensions and customization options to the user.
Browse faster
Opera 64-bit enables the user to surf at a faster speed. This superb browsing application has various tools such as Built-in-video support and Turbo that contribute to make this app a fast web browser and popular among the users.
Easy-to-use
The interface of this browsing application can be accessed easily. You can pick any pre-installed search engine like Google, Yahoo, etc., or add a custom search engine of your choice. This fantastic application enables users to customize keyboard shortcuts and mouse gestures.
Data security
While surfing the internet, some malicious third-party websites try to steal your information. This protective browsing application will save you from these malicious websites and warn you if any website tries to defraud you or steal your information like password and other details.
Many things to do
The Tab cycling feature helps those users who juggle multiple pages at once. This will consequently save time. This amazing application allows visualizing the bookmarks, and you can even share your favorite and preferred bookmarks with your friends.
Discover more
You can remain updated by browsing the latest news on this application. You can scroll news on various topics in your preferred languages on the newsfeed available on the start page.
How to Install Opera 12.17 (64-bit) on your PC?
You can easily download Opera 64-bit on your Windows 7, 8, 10 operating systems for a fast browsing experience. The installation process can be proceeded quickly by following the step-by-step guidelines and instructions described below.
Step 1: Thankfully PC version of this application is available easily. You can install this browsing application from this website. Start downloading the setup or .exe file of this software.
Step 2: Once you have downloaded the setup file, start the installation process and follow the step-by-step guidelines and instructions to run this software on your system.
Step 3: After following all the steps, click on finish. You can now have a secure and enormous browsing experience on your Windows operating system.
You might also like