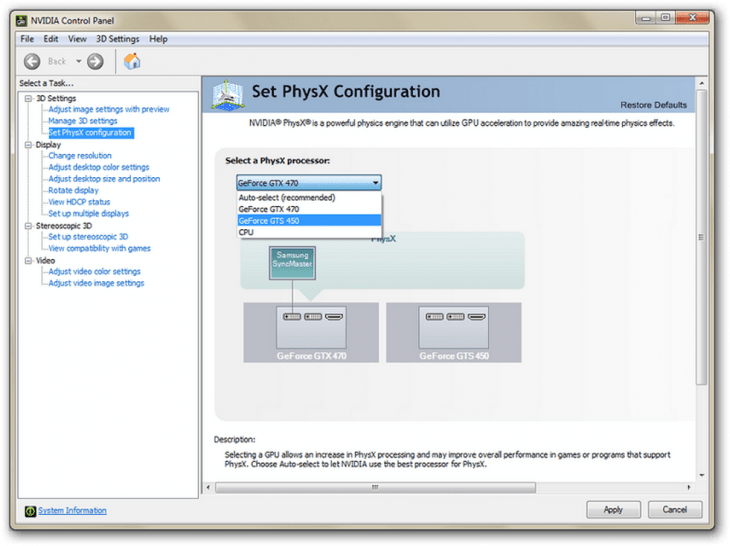 Download NVIDIA PhysX
Calling all 3D game lovers! The NVIDIA PhysX is a software you might not heard of much because it is only a year old. However you may have heard of a certain software that greatly blurred the line between gaming world and reality. This is courtesy of NVIDIA PhysX. The NVIDIA Corporation has been a trailblazer in the gaming industry for a long time.
Be it for its graphic cards or its powerful GPU, NVIDIA has played a significant role in giving players a hyper realistic gameplay experience. Now it is back with the PhysX, a physics simulation software that greatly melds computer graphics to become insanely real. They are designed to solve the herculean problem of incorporating soft body dynamics in gameplay, thereby easing the work of a game developer. The lifelike facial texture, expressions, the wrinkles in the clothes, the shadow-light play that gives satisfying details to a game's graphics is all done by the PhysX engine.

Key Features Of NVIDIA PhysX
Precision Graphics
Before PhysX, developers had to manually engineer every game's minute details, ones that our mind subconsciously appreciate. But ever since NVIDIA launched their physics simulation engine, developers have had many field days. This is because they could add an insane level of details to their game by simple mechanics. Some examples are the crackling sparks above a running fire, the dust particles that give a misty look to an abandoned street and the silky finish to the curtains of a hotel room.
Game Optimisation
You would think the culmination of all the minute graphic details would weigh down on the CPU. On the contrary, it goes easy on it, in spite of the hardcore processing. This is solely because NVIDIA comes in a parallel GPU that is specifically designed to run complex simulations. So the game is highly optimised in accordance with the graphics, providing the player with a dive board that leads him into an alternate reality. That is how hyper realistic the graphics become once you dive into a PhysX controlled game.
System Requirements Of NVIDIA PhysX
To run the software smoothly, ensure that your system meets the following significant requirement;
It should be compatible with Windows XP/Vista/7/8/8.1.10 operating system (64-bit).
How To Download It On PC
You can find multiple download links for the software on browser but in this case, we will show you how to download it from the official NVIDVIA website.
Here, you will find a 'Download Now' button. Click on it and you get redirected to another page. There is another download button here. Click on it to initiate exe file download.

Once download completes, run this file on the system.

Follow the installation instructions that show on the setup window.

When you reach the end of the above process, the software gets successfully installed on your PC.
You might also like