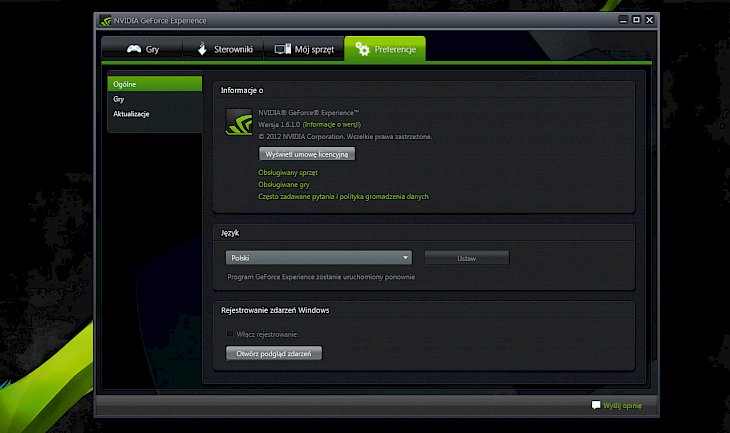 Download NVIDIA GeForce Experience
NVIDIA GeForce Experience is developed to enable the users to keep their NVIDIA graphics card drivers updated or up to date and optimize their games effectively. this is a fantastic software that also optimizes your game settings based on your CPU, GPU, and display monitor performance. For the tremendous and amazing user experience, the software provides the highest image quality and maintains the optimum experience for all supported games.
This excellent platform enables the user to capture and share videos, screenshots, and live stream with your team and friends. You can keep your drivers up to date and also manage and optimize your game settings. NVIDIA GeForce offers you to perform all the essentials that are a companion to your GeForce Graphics card.
FEATURES
Keep your drivers up to date
This software works as a tool that automatically notifies you whenever there is a new release from NVIDIA. You can conveniently update the driver in just a few clicks, without leaving your desktop. With every game release, the developer's team of this software works well to enhance the software's performance, fix bugs, and improve your gaming experience.
Optimize your game settings
By configuring the game's graphics settings, the user can hassle out of PC gaming. You will not need to worry if you don't know what texture filtering level to set, this platform will help and guide you. This fantastic application uses the power of the NVIDIA cloud data center which tests thousands of PC hardware configurations and evaluates the most effective and best balance of performance and image quality. You can optimize the game's graphics in just a few clicks or use the custom slider to easily dial in your preferred image quality.
Share your greatest gaming moments
NVIDIA GeForce Experience is the best tool that you can use to capture your favorite gaming moments. It is considered the quickest and one of the reliable ways to broadcast your game on Twitch. The ShadowPlay runs in the background that offers the user to record or broadcast anytime. GPU acceleration is just awesome, and it works without being noticed that it's capturing.
Personalize your gameplay
NVIDIA freestyle filters enhance your gaming experience by allowing you to apply post-processing filters to your games while playing. You can conveniently change the look and mood of your game or simply apply dramatic post-process filters like HDR
How to install NVIDIA GeForce Experience on your PC?
For the best gaming experience, you can download the PC version of this software on your Windows operating system. Make sure that your system will meet the system requirement so that you can have an enormous user experience. To install NVIDIA GeForce Experience, follow the guidelines and instructions described below.
Step 1: It is always preferred to install this software from the developer's official website. To visit the official site, click https://www.nvidia.com/en-in/geforce/geforce-experience/.
Step 2: Alternatively, open your browser and search "Download NVIDIA GeForce Experience for Windows" in the search box.
Step 3: Now, you will get a list of websites on your search result page. You can select any trusted website like filehorse.com to download the setup file of this software.
Step 4: Once you have downloaded the setup file, follow the step-by-step guidelines and instructions to start the installation process and run this software on your system.
Step 5: After following all the steps, click on finish, and now you can use this fantastic software on your Windows operating system.
You might also like