Start Nuke Non-commercial download now, for free!
Category: Video editing
Version: 11.3v3
Last update: Apr 5, 2019
OS: Windows, Mac, Linux
License: freeware
What is Nuke Non-commercial?
NUKE is a node-based digital compositing application for movies post-production. The application was used to create such films as Avatar, Mr. Nobody, The Curious Case of Benjamin Button, King Kong, Jumper, I Robot, Resident Evil: Extinction, Tron: Legacy, Alice in Wonderland or The Rise of the Planet of the Apes.
Nuke Non-commercial is mainly used to connect the scenes recorded using a camera with those prepared by the artists creating projects in 3D modeling software. The program is ideal for compositing tools thanks to its extensive database to streamline the process of creating the final effects in video.
Nuke Non-commercial offers few limitations including no support for third-party plug-ins, 2D format support is disabled for MPEG4 and h264, output resolution is limited to HD (1920 x 1080), the WriteGeo, Primatte, Ultimatte, BlinkScript, and GenerateLUT nodes are disabled.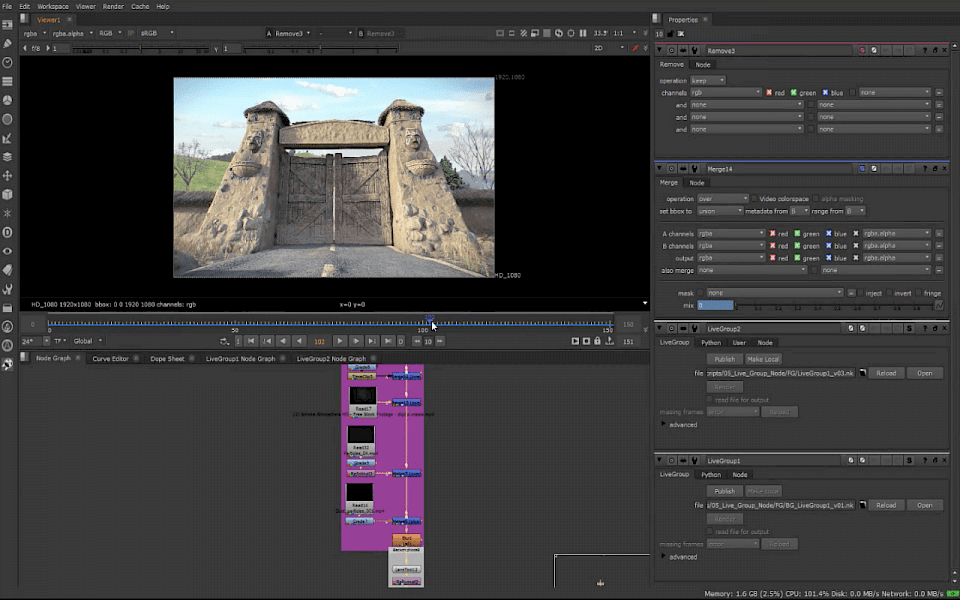 Working tool is based on the so-called. Nodes that allow you to mix and match different effects. This solution is extremely fast and allows to experiment at each stage of effects.
You can without problems create alternative branches of nodes, because it has complete control over the hierarchy of applied effects. As you can imagine such a solution is extremely useful when you want to push a project in a different direction than originally expected.
Among the nodes offered by Nuke Non-commercial we can find functions responsible for removing greenscreen, creating realistic lens flares, generate particles, tracking cameras, repairing lens distortion, adding lights to the composition, analyzing the prospects recognition, advanced color grading, repairing stereoscopic shots and much More.
All effects in Nuke Non-commercial are generated in real time and the end result can be seen in the preview pane.
Nuke Non-commercial Alternative
| Software | License |
| --- | --- |
| Natron open-source compositing software. | GNU |
| Blackmagic Fusion most advanced visual effects solution. | freeware |
| DaVinci Resolve edit, color correct, and add visual effect to movies. | freeware |
| Blender open source 3D creation for free. | GPL |
| HitFilm Express powerful and free editing and VFX software. | freeware |
| Lightworks free and professional software for video editing. | freeware |
| Blackmagic Fusion 9 Studio Blackmagic Fusion 9 Studio - most advanced visual effects solution. | freeware |