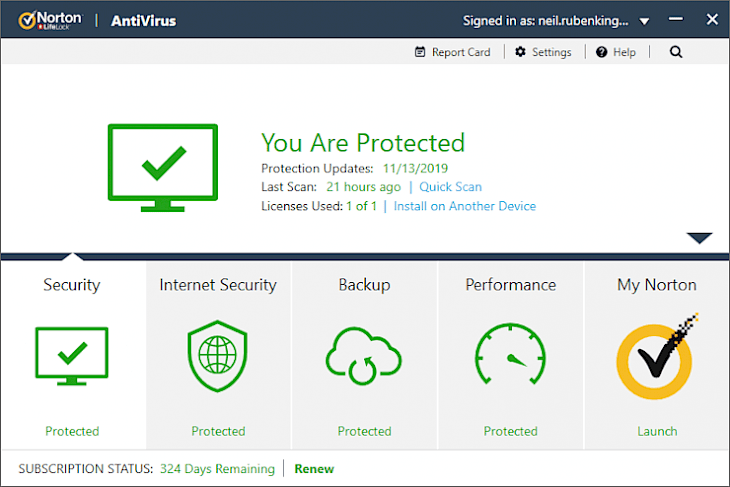 Download Norton AntiVirus
For those who spend hours on the internet browsing or surfing, you might get worried about the malware and viruses that attack your device from some third-party sites and steal your information, and can damage your system. To secure your PC various antivirus are available. Among all the options, Norton Antivirus is a reliable and widely used antivirus globally.
This antivirus software is a security program that detects adware, trojan, spyware, viruses, and other malicious content on your PC. By using Norton, you can safely manage and organize your information on your device without any worry. To save your device from every possible threat, it scans emails and IM attachments and identifies which files and content are safe, which are dangerous.
Norton Antivirus is downloaded by millions of users. This fantastic software is easy-to-use and has an excellent layout to fascinate the users. Although, you may need a little different approach in controlling its functions. The 2020 latest version of this antivirus provides real-time monitoring of your PC by offering various scanning options. This software offers both auto-scanned and manually scanned.
FEATURE
This software protects your PC, and it is also the best USB security software. Norton provides real-time scanning for the external device like USB, which you place on your device. This feature ensures that no harmful content from any external storage can affect your PC.

The users can stop and protect their computers from online danger without compromising the system's performance.

The developer's Automatic silent update option is beneficial for the user to ensure that they should have the latest version of antivirus protection.

The password manager integrated into the software helps to manage all your passwords that facilitate the users to access the online portals easily.

This Antivirus will prevent the crimeware from being secretly loaded on your system.

Norton Rescue tools have the ability to fixed even severely infected systems.
How to Install Norton Antivirus on your PC?
Norton Antivirus is also called anti-ransomware protection software. You can protect your Windows 7, 8, 10 operating systems by installing this anti-phishing software on your PC. Mainly there are two ways to get this Antivirus software in your system. You can directly install this software from an online website and secondly, the software can also be installed from CD Norton Antivirus.
To install the software from the online website, you can follow the instructions and guidelines described below.
Open your browser and visit the official website of Norton.

Log into your Norton account. If you don't have a Norton account, you can create a new one by registering.

Now click on the download options. You can enter the product key if you have and click to continue.

Follow the instruction carefully to successfully installed this antivirus software on your Windows operating systems.

If you are not prompted for payment during the installation, your product expires after the trial period of 30-days. After that, you have to purchase the subscription.
Alternatively, you can install Norton Antivirus by inserting a CD on your system and launch the program setup file by following the step-by-step guidelines provided. The Norton Expert Team is very active in attending to and resolving the customer's queries. In case you encountered an error during the installation process, you can contact Norton's antivirus helpline and they will guide you through any of your problems.
You might also like