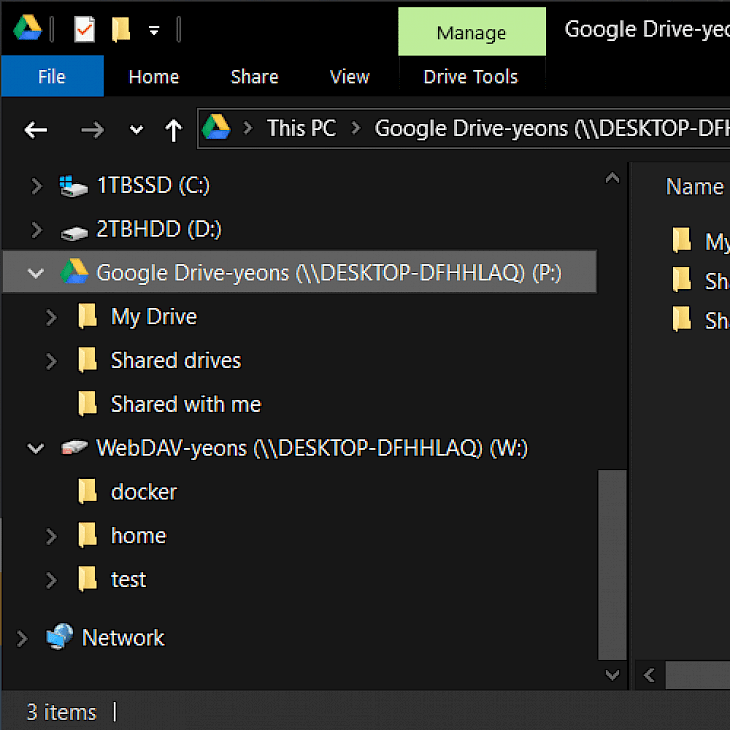 Download NetDrive
If you are someone looking for a good chance to rely on a remote storage environment to keep your important files safe and within your reach, you must try NetDrive. NetDrive is an excellent tool that connects remote storage and shows them like a hard disk.
This fantastic software enables the user to access the files easily. The interface is easy to use and you can drag and drop to transfer and manage files. NetDrive provides various features that enable you to manage FTP, WebDAV, and NAS servers as virtual drivers, you can also connect to the Dropbox, One Drive, Box, OpenStack, and Amazon web services web servers.
For a better user experience, the software provides various mountain options. The user can choose so that their drives are mounted automatically during the system boot time without requiring the login details. The user-friendly interface offers various useful features in an organized manner.
FEATURES
Cloud storage as a virtual drive
It is not easier to manage cloud storage services. This fantastic platform enables the user to operate and manage their favorite cloud storage by simply providing login information. Your cloud storage will automatically appear as a virtual drive every time you start your operating system.
File Browser
It is an extremely beneficial feature that enables the users to open, download, rename and delete remote files without a mount. The file browser is a fantastic tool to access the file fast and more easily.
Background uploading
It is always convenient to save files and important data for future use. The background uploading uploads your files to the remote storage. This will keep your data safe and secured.
File lock
By considering the data protection and privacy concerns, NetDrive provides this File Lock feature to its users. This platform enables you to lock all kinds of files including MS-office files. Only the lock owner has the right to overwrite the locked files. No other person can delete, rename or overwrite the locked files. The owner solely is responsible to lock, unlock, and overwrite the files.
Multi-user file lock for Microsoft office files
If you are working on MS-office files and want to share your file or information with your team or colleague, this platform allows you to share your lock files. You will not need to worry about data privacy because the other user can only open the file in read-only mode and will not make any changes.
How to install NetDrive on your Windows Operating system?
Netdrive is a reliable and fantastic platform used by millions of users to easily manage and access their files and information. The PC version of this software is available easily and you can install it in your Windows Operating system by following the instructions and guidelines described below.
Step 1: It is always preferred to install this software from the developer's official website. To visit the official site, click https://www.netdrive.net/download/.
Step 2: Alternatively, open your browser and search "Download NetDrive for Windows" in the search box.
Step 3: Now, you will get a list of websites on your search result page. You can select any trusted website like filehorse.com to download the setup or .exe file of this software.
Step 4: Once you have downloaded the setup file, follow the step-by-step guidelines and instructions to start the installation process and run this software on your system.
Step 5: After following all the steps, click on finish, and now you can use this fantastic software on your Windows operating system.
You might also like