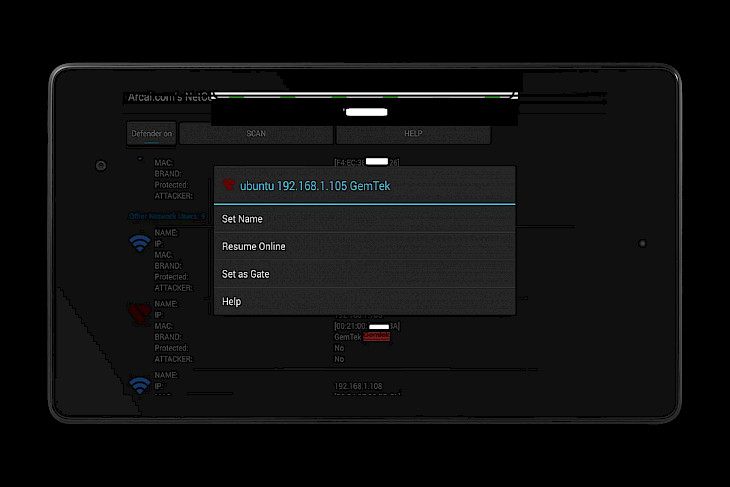 Download Netcut
We might be living in a internet riddled era. But that doesn't necessarily mean every concrete flat has an internet connection in their place of dwelling. They live alternatively off of mobile data and their neighbour's router connection. Who knows, you could be this neighbour too. There is no clear cut way to find what devices could be hogging on your modem. That is till NetCut enters the picture. NetCut is a smart utility tool that instantly informs you about known and unknown devices connecting to your network. It gives intricate details about each device, including device name, data transfer usage, MAC address, signal quality and much more. This way, you get an in-depth analysis of all the devices that are connected to your network. If you notice unknown devices in the list, you can abruptly cut them off. Perhaps that is where the name 'NetCut' comes from.

Key Features Of NetCut
Portable Efficiency
Install the software on any modem connection. It can be in your home, your work place, school, commercial centre, etc. It is recommended to run this software in different environments to get a clear overview of the neighbourhood's network. It gives you the power to block and add devices to your network and regulate the network status throughout its lifetime.
Manage Your Devices
NetCut lists out all the devices that are connected to your network. Depending on this list, you can manipulate your device's network settings. Suppose you have several devices connected to your home network. When accessed simultaneously, the connection tends to become slow because of overload on network path. To avoid experiencing these problems, you can manipulate each device's net usage to balance the speed of connection.
Guard Your Network
Hackers are always inventing ways to infiltrate your system in complete stealth mode. This is why it is important to stay vigilant. Ward off possible network infiltrations by using Netcut. It covers your network in a protective shield that deflects malicious devices from exploiting your network connection. Moreover, Netcut deflects ARP spoof attacks as easily as it does with the normal ones. This is because Netcut is wired on an ARP protocol itself.
System Requirements Of NetCut
There is only one simple requirement that your system needs to fulfill in order to run the software smoothly
It should be compatible with Windows XP/7/8/8.1/10 operating system (64-bit)
How To Download It On PC
The given instructions describe how to download the application.
Click on the 'Download' button. Upon clicking it, you are redirected to another site that has another download button. Click on it as well.

The setup file gets downloaded. Once it finishes downloading, run it on your system.

When you finally click 'Finish', the installation ends and Netcut becomes accessible on your console.
You might also like