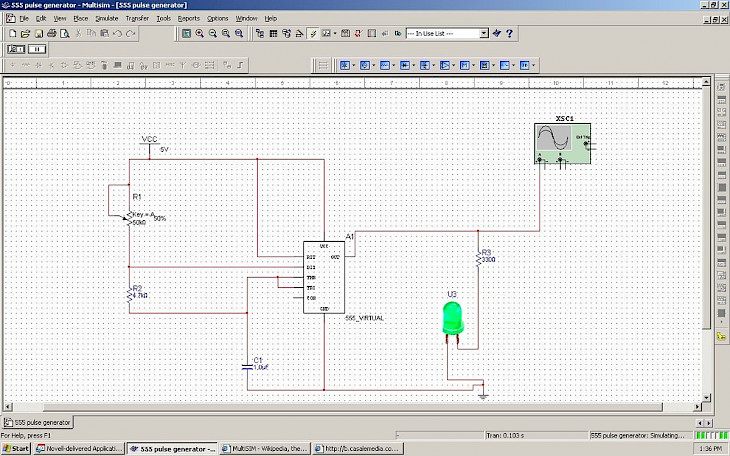 Download Multisim
NI Multisim is an electronic simulation program that is one of the many components encompassed in the NI Ulitiboard. It is heavily based on the SPICE software simulation for designing electronic circuits. The purpose of designing this software was solely for academic use. Students and teachers in the field of engineering can work in its intuitive schematic environment to analyze electronic circuits. Designers can work on creating effective circuit frameworks that help reduce PCB prototype iterations.
Multisim is divided into versions, one for each group i.e students and designers. Both versions differ in the panel of tools they offer, but together they provide a mechanical and design perspective of electronic circuit building. By creating such powerful circuit simulations, Multisim empowers its users with in-depth knowledge of the architectural, operational, and economical features of working with circuit simulation software.
Key Features Of Multisim
Circuit Simulation
Multisim integrates the best of simulation technology to present its users with. Students and teachers alike can study circuit features through visualization, implementation, and exploration of circuit designs instilled in the electronic library. This reinforces the grasping ability of users as they apply theoretical knowledge in a systematic form. Multisim's intuitive environment enables users to work with virtual electronic components to build powerful circuits. It is known for being at par with the SPICE standards of circuit development.
Live Community
If you are bored of tampering with your virtual wires, you can seek inspiration from other users' creations. This is one of the perks of joining Multisim's live community. You can share your works as well as view other works for the sake of reference. Additionally, you can find mentors who thrive on answering circuit queries and providing assistance to struggling students. So if you are one such student, you can approach these mentors for some enlightening advice.
Learn And Teach
Incorporate this powerful software in your engineering laboratories so that you provide a more perspective insight into the complex art of building circuits. Teachers and students alike will thank you for it.
System Requirements Of Multisim
Make sure that your system meets the following requirement in order to run Multisim smoothly.
It should be compatible with Windows 7 SP1/8.1/10

The embedded processor should belong to the Multi-Core Intel series or be equivalent to Xeon or AMD.
How To Download It On PC
Follow the given procedure to install Multisim 14.2 on the system.
Scroll all the way to the bottom of the page. You will find a 'Download' button. Click it.

You will be directed to another page. Click the 'Download Now' button to start downloading the zip file. Make sure you note the zip file's password given on the page.

Enter the password to extract the contents of the zip files. Then run the setup's exe file stored in it.

Follow the installation instructions on the setup window. When you finally click 'Finish', Multisim 14.2 will start to download on your PC.
You might also like