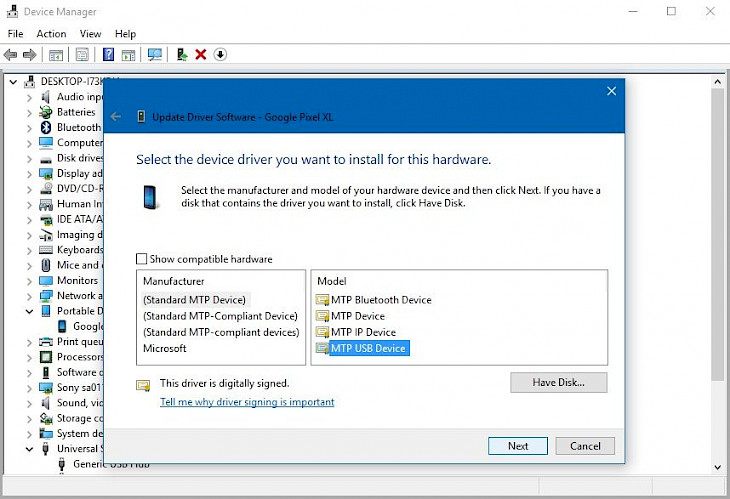 Download MTP Driver
Computers are dummy machines. Unless you specify them to do a task, they will sit dumbly. This task could be anything. It could be installing software, running anti-virus, and even inserting a new device into the port. Do you believe computers to be smart enough to recognize the latest model of your phone? The answer to this is no. Computers do not possess such knowledge of their own accord. Programs are written for them to acquire this knowledge. One such program is Media Transfer Protocol (MTP). It is a media communication protocol that enables file transfer between different devices. The MTP Driver for Android is based on this program. As the name suggests, it is designed for android built devices. When installed on the system, the computer will be able to recognize all Android devices that are connected to it via a USB cable. Computers come with in-built drivers of their own. But sometimes, they malfunction and consequently fail to recognize the devices that are plugged in. With MTP Driver, however, such instances will never occur again. They make sure your Android devices are instantly recognized so that you access them on your system. In the next section, we will look more at its features.

Key Features Of MTP Driver
Transfer Android Content
Regardless of what Android device you own, you can easily transfer its contents to your PC. This is because MTP reads into the device contents and displays them in all their glory on the screen. You can open these folders, sift through the files in it and transfer them accordingly.
Fixes System Malfunctions
The software doesn't just act as a driver for Android devices. It comes with a toolkit that fixes malfunctions when non-Android devices are trying to be read by the system.
Easy Configuration
The MTP Driver For Android is completely free of cost. You can download it from multiple sources on the web without making payments of any sort. Once you install it on the system, you need to manually configure it from the PC settings. Just go to the storage option in the settings' menu and toggle the MTP switch on. This launches it in the background
System Requirements Of MTP Driver
It should be compatible with Windows XP/Vista/7/8/10 operating system (64-bit)
How To Download It On PC
Follow given the given steps in order to install the software successfully on your system
Click on the green button that leads you to another page wherein you will another download button. Click this to initiate the download of .exe file.

Once the download completes, run this file on the system. On the setup window, follow all the installation instructions that show.

When you reach the end of the above step, MTP Driver gets successfully installed on the PC
You might also like