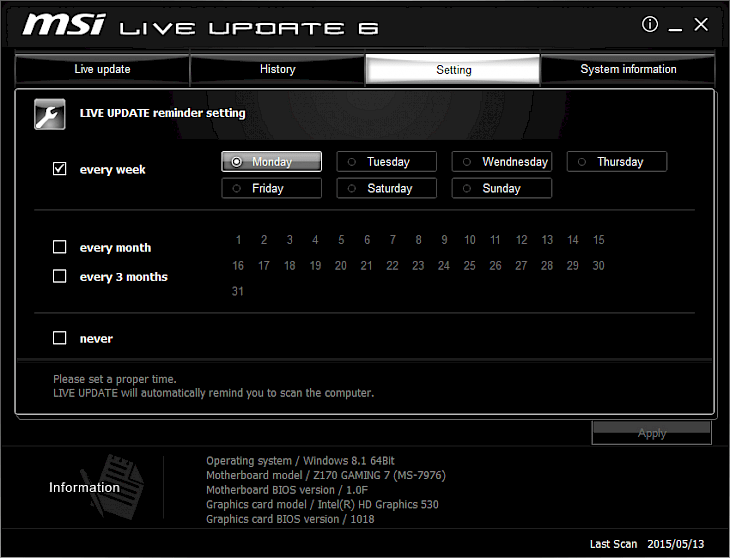 Download MSI Live Update
Are you using an old PC with outdated drivers and software but cannot afford to buy a new one? Are you looking for a software solution that can scan for, recommend, and even download the latest drivers and software for your PC and replace the old junk? Then MSI Live Update is the way to go for you.
Developed by MSI, MSI Live Update is a fantastic free software update tool with a user-friendly interface that offers automated scanning and updating of your MSI products' BIOS, drivers, firmware, and utilities. To keep your computer system in the most updated setting by using this service. It currently runs in its latest version of 6.2.0.69.
The software is only intended for use with products connected to MSI Desktop PCs, motherboards, and graphics cards.
Features of MSI Live Update
MSI Live Update is mainly useful for updating the BIOS, firmware, drivers, and utilities of MSI products. The distinguishing features of MSI Live Update are as follows.
Regular Scans
The MSI Live Update software regularly scans your personal computer for checking outdated software to point them out to you for updating them.
Manual & Automatic Scans
There are two ways to scan products for notifications, namely Automatic Scan and Manual Scan. The device will automatically scan all the products and check for the latest update files by you selecting Automatic Scan. Alternatively, you can click Manual Scan and choose the objects to check.
Download History
MSI Live Update records the history of all your downloaded updates so that you can keep track of the same anytime and anywhere you want.
Live Update Reminders
To keep your device in an updated state, you should set the proper time for the Live Update reminder. Each month is the default frequency. The Live Update alert will remind you to search and update your device based on your frequency settings.
Download & Install MSI Live Update for Windows PC
Download MSI Live Update for Windows PC
MSI Live Update can be downloaded from the MSI official website. However, keep in mind that the software is only intended for use with products connected to MSI Desktop PCs, for example, motherboards and graphics cards. This utility does not support any MSI Notebook like NB and Tablet PC or AIO product, and even though it is installed in them, running it can have unexpected errors. If you happen to have MSI Live Update installed on your Notebook or AIO system, please uninstall it and restart the system.
It is advised not to use MSI Live Update on AIO PC and Notebooks as running it requires MSI Mainboard and .NET Framework.
Install MSI Live Update for Windows PC
To run the MSI Live Update installer, double-click on the downloaded setup file and follow these steps.
Click 'Next' and agree to the User Agreement.

Please wait until the installation finishes.

Click on 'Finish' to end setup.
MSI Live Update is now up and running on your Windows PC. Now you can forget about having to manually check for outdated firmware in your PC and concentrate on what is more important. Enjoy!
You might also like