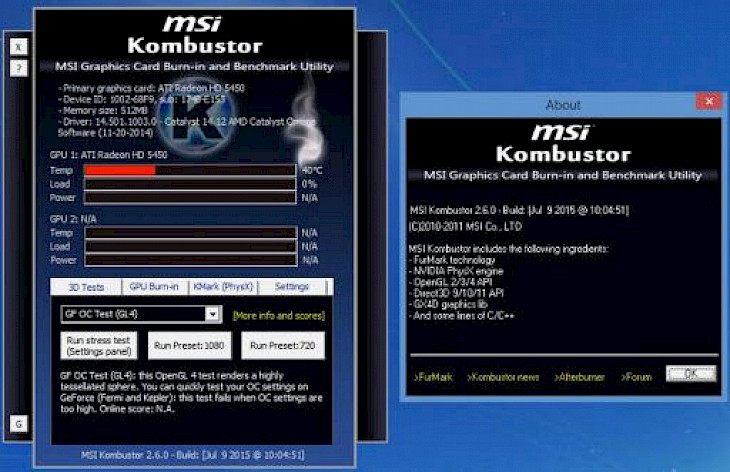 Download MSI Kombustor
Gaming in the 21st century has drastically improved to an extent where availing of real-life gaming experiences is entirely possible. It's all thanks to the graphical powerhouses packed into the machines that deliver such surreal experiences. However, clocking and figuring out how much you can push these graphic cards is quite the task that any game could push. But pushing it beyond the limits is a possibility that many try to figure out. But to find out how much you push your graphical power, we have an application that lets you do the same.
What is MSI Kombustor?
The application is a state of the art benchmarking software that tests your GPU to its maximum limits and provides real-time updates on how well your GPU can perform on various loads and statistics. Though it might seem unnecessary, the application is highly regarded as the benchmarking tool that helps GPU differentiate and see its true potential through the application. For all those CPU geeks out there, MSI Kombustor is one application you should miss out on.
Key Features of MSI Kombustor
The overall application is free of cost and requires no additional costs in using it. Download it for free and start using it.
The application is quite detailed and offers a complete insight over all the details that your GPU might be facing. It's quite detailed and extensive as well.
The overall application hardly is any bigger and supports a wide range of API for rendering purposes.
Minimum System Requirements
CPU – Intel i5 or higher

OS – Windows 7 or higher

RAM – 1GB or higher

Storage – 100MB

Video card – Nvidia GeForce GTX series.
NOTE – the components of the system don't matter. The application tests the GPU to its limits. So higher the configuration, the more significant results you will achieve.
How to Downland and Install MSI Kombustor on PC
Download the application installation files
Get the installation files from any of the third-party sites and download the latest version.
Once downloaded, then open the installer and set it up. Install the application by following the on-screen set of instructions.
You can now run benchmark tests to determine to what extent your GPU is compatible and can run optimally.
You might also like