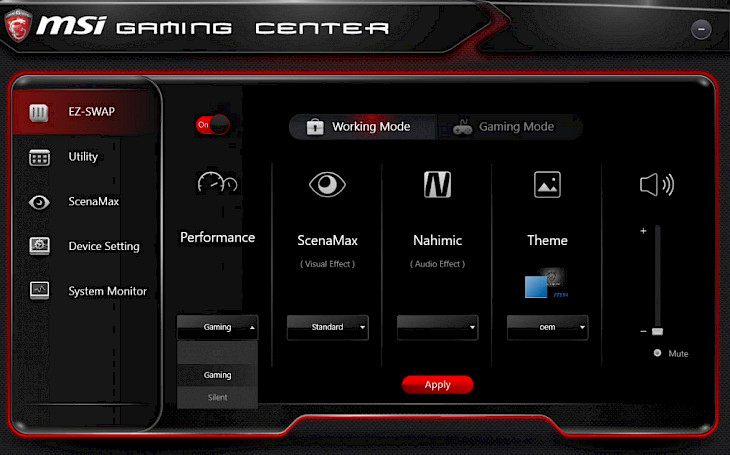 Download MSI Gaming APP
The game enthusiast will surely understand that it takes a lot of effort to play the advanced game in an operating system that requires many hardware resources. MSI gaming app is a beneficial software that enables users to unlock their graphic card's potential in just a few clicks. You can enjoy your live game streaming by using this useful tool on your PC. This fantastic tool works on the motherboard to integrate the MSI graphics for an excellent GUI interface.
MSI gaming game is the fantastic software that provides a wide range of features of the graphic card to the users that they can easily customize your game setting while playing any modern or advanced game which requires a graphic card. This fantastic software will increase the performance of your game and provides a tremendous gaming experience.
FEATURES
Adjust the screen contrast
You can maintain the visual experience conveniently by adjusting the screen contrast. You will need to open the tab and select the preferred mode from the platform option.
VR Experience
For the best VR experience, your system should perform well and deliver maximum performance. You can customize your PC setting by adjusting all the essential components which result in high performance. This excellent application will make sure that your VR experience will not be altered by other software.
LED Controller
This fantastic software allows the users to change their gaming system's LED color according to their interests and choice. The users can pick their preferred color from the color chart.
On-screen System Information
It is always better to analyze the system's performance to evaluate and make sure that everything is running smoothly and you can also determine the issues that are altering your performance. You can monitor things like clock speed, usage, FPS, and temperature of your CPU and VRAM while playing your game. You can select and choose what information is relevant to you and display the same on your screen.
DragonEye
MSI gaming app allows the user to watch a stream while playing the game and it would be a tremendous experience for the gamers.
How to install the MSI Gaming App on your Windows Operating System?
MSI Gaming App is a beneficial tool to provide the best VR experience to the users. You can customize your gaming profile in just a few clicks by using the three pre-defined features which are OC mode, Gaming mode, and silent mode. To enhance your gaming experience, you can download this fantastic software on your Windows operating system by following the instructions described below.
Step 1: You can download the MSI gaming app by visiting the developer's official website.
Step 2: Alternatively, open your browser and search "Download MSI gaming app for Windows" in the search box.
Step 3: You can choose any trusted websites like filehorse.com from the search result page to download this fantastic game.
Step 4: Once the downloading is completed, click the setup or .exe file twice to start the installation process.
Step 5: Follow the instructions and guidelines very carefully.
Step 6: When the process is finished, the MSI Gaming app icon will appear on the desktop.
Step 7: Click on the icon to play your favorite game on your system.
MSI Gaming app is free to download and you can use this fantastic application without paying a single penny.
You might also like