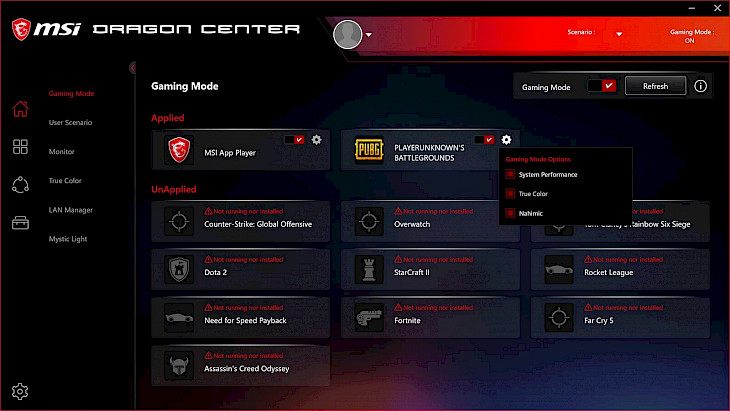 Download MSI Dragon Center
Are you looking for an all-in-one solution for managing all your system utilities? Do you want to control your motherboard, video cards, and other PC components just from one place? Then we recommend using the MSI Dragon Center software to resolve all your issues once and for all.
Developed by Micro-Star International, this is a robust system utility. It is a Taiwanese technology company that is popularly known for its video cards, monitors, and other PC components. It allows MSI hardware owners, especially, MSI laptop owners, to control various PC settings, change the system, customize LED lighting, and access a wide range of system diagnostic tools.
The MSI Dragon Center can also incorporate services available from other compatible applications in addition to the tools and features that are built directly into this app. This is achieved via the section of the App Portal that can provide easy links to installed software solutions such as MSI True Color, Nahimic 2, XSplit Gamecaster, GeForce Experience from NVIDIA, SCM Control Panel, and Engine III from SteelSeries.
Features of MSI Dragon Center
Although users of PC desktops can use this program, most likely laptop users would get the most benefit from it. Not only in the form of real-time hardware monitoring and automated device tuner functionality, but the key feature of this control panel software is also the presence of customizable user profiles, allowing home and business users to quickly turn their PC into acceptable modes of service, from bright and flashy gaming-ready rig to the quiet and subdued machine for multimedia consumption.
The salient features of the MSI Dragon Center have been elaborated on below.
Gaming Mode Optimization in One Click
With MSI Dragon Center, you don't need to tweak settings every time you play a different game. Just one click does fine.
Easy System Cleanup
Remove all your system junk, free up memory, prioritize system utility, set up true color mode, and light up your keyboard exclusively - all in the Gaming Armory of MSI Dragon Center.
Autosaves Gaming Highlights
MSI Dragon Center automatically saves the in-game highlights of your gameplay without you having to switch the screen-recorder on during clutch moments in the game.
Real-Time Game Assistance
The MSI Companion is a real-time assistant that tweaks your settings anytime, anywhere - even while you are in-game.
Download & Install MSI Dragon Center for Windows PC
Download MSI Dragon Center for Windows PC
MSI Dragon Center can be downloaded either from the official MSI website or from any other website for free. After downloading the executable setup file, you can click on it twice to start the MSI installer.
Install MSI Dragon Center for Windows PC
Once the MSI installer starts running on the screen of your Windows PC, you should follow these simple instructions to finish the installation process.
Continue clicking on 'Next' after following on-screen installer instructions.

Agree to their User Policy.

Let the installation start.

Once it ends, click on 'Finish'.
MSI Dragon Center will now be available on your PC to tweak your settings with just one click for improved gameplay and better PC output. Enjoy an enriched gaming experience!
You might also like