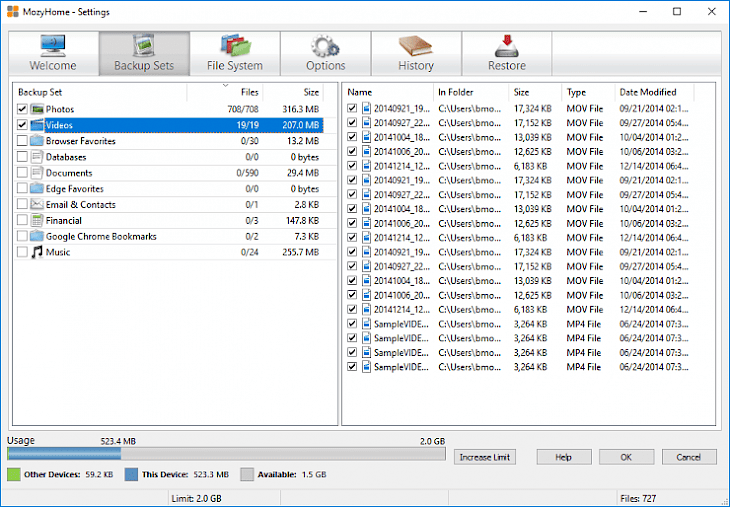 Download Mozy Home
Computers are known for carrying out extensive calculations and operations at any given point. For any operation to be carried out, you need to have sufficient space in your computer to store the results and view them later. However, with most computers, you get the feasibility of being subdued and have a broader approach towards doing anything you feel like. It's more like where any past media or files stored can be viewed with all the feasible data available.
However, in the event of a system crash or any other incident as such, there isn't much you can do to retrieve those files. But, if there were one way you could enable backing up your system, it would save a lot of time and effort. For the same, you don't need any external storage device as we have one fascinating application that enables you to do so. Check it out.
What is Mozy Home?
A mozy home is a software that is designed to provide users with the best backing up service possible. It's more like users can directly backup their contents on the cloud and save it in the case of an unexpected system crash. The software does help exponentially to ensure that all the data is safe and secure in offshore storage places that are encrypted and accessible only by you. It's a free application to use; however, you will have to pay a premium subscription with more data to be backed up.
Key Features of the Software
Syncing of file-oriented software
The software knows which files to be uploaded as the user would specify the files that have to be backed up. It does this in regular intervals such that you get all the files uploaded and don't miss out on any important stuff.
The entire software is highly customizable depending upon how you want the backups to be carried out. It's your one-stop-shop online backup manager that will take care of all the contents in your computer and ensure that you have everything restored in case of a system crash.
No need for any credit cards
Once you start using the software, you can have free access to 2GB of data till you use your account. Moreover, if you want additional storage, you can pay for it for an annual or monthly subscription and cancel it whenever you feel like it.
Minimum System Requirements
CPU – 1.8GHz processor or higher

RAM – 1GB or higher

Storage – 1GB or higher

Network – 512kbps or higher connection

OS – Windows 7 or higher
How to Download and Install it on a PC
Download the software installer
The software is available on multiple third-party sites. Download the version most feasible for your usage.
Once downloaded, then open the downloaded contents and set up the installer. Let the installer finish the installation process.
After successful installation, enjoy an explicit backing up feature saliently to your preference.
You might also like