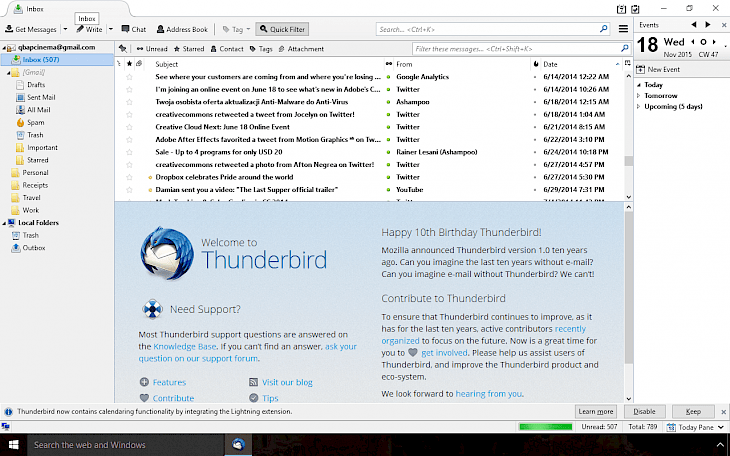 Download Mozilla Thunderbird
Mozilla Thunderbird is a free e-mail client that offers a lot of configuration possibilities with additional extensions. The program offers the ability to view messages in tabs, filter content, and manage all contacts.
The application allows you to quickly configure an email account. Users to set up an email account just to introduce data such as user name, e-mail address, and password, and the rest of the configuration will be set automatically by Mozilla Thunderbird. The email client features such as tabbed messaging, the ability to search and filter messages, e-mails archiving system, spell checking whether the integrated activity monitor displays information about any interactions in the program.
Among other interesting features offered by the program, you will find an option to display reminders annexes. Mozilla Thunderbird automatically checks messages for the presence of words that might indicate a desire to attach files to messages, and if they are found application displays the appropriate reminder.
The biggest advantage of Mozilla Thunderbird client is the service extensions. With their help, you can freely modify the appearance and functionality of the application. Thunderbird offers access to hundreds of motifs referring to recent films, known landscapes, or Japanese tattoos. Using the full motifs can also change the appearance of the other components of the application interface.
Mozilla Thunderbird also equipped with a junk mail filtering system, the mechanism for managing multiple email accounts, automatic locking systems remotely display the content in the news or feature protects the user from messages seeking to extort information.
You might also like