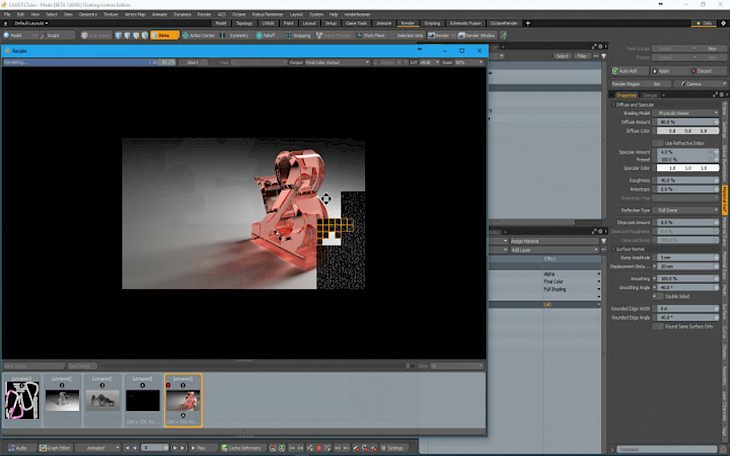 Download Modo
Modo 14 is a 3D modeling, animation, sculpting, effects and rendering software for Windows, Linux, and macOS. The software offers easy to use modeling tools with a highly robust and flexible procedural modeling system.
Modo 14 features MeshFusion Boolean tools, integrated sculpting, and retopology functionality. Take the drudgery out of tedious UV creation tasks, with a highly efficient built-in toolset that offers many automated options, supports UDIM workflows, and integrates fully with modeling and selection workflows. Modo's integrated brush-based sculpting tools allow you to intuitively rough out volumes and add multiple levels of fine detail with speed. Flexible layer-based and nodal shading systems for building sophisticated, convincing materials are available.
Drag-and-drop presets let you quickly develop the look you want, or simply select from a huge library of highly realistic physically-based materials. Modo comes with a photorealistic rendering engine that offers even network rendering for free. Modo's 13 physically-based renderer offers a rare blend of speed and quality. Review textures as you bake and watch them refine progressively. Modo also allows you to tweak settings and make surface changes without waiting for a final render, and it accurately bakes to Unity or Unreal standards with no extra tools required.
Modo's 14 flexible node-based rigging system lets you easily create, edit, manage and reuse complex character rigs. Incorporating traditional animation techniques applied in innovative ways, Modo's 3D animation framework is highly customizable to meet the most demanding of production challenges. Modo's rule-based, directable particles work together with the fully-integrated rigid and soft bodies, and procedural shattering, to let you create compelling dynamic simulations in less time.
Modo 14 lets you create and manipulate realistic hair, fur, grass, feathers and other fiber-based effects as actual geometry that can be sculpted, shaded and rendered directly in your scene. Modo's advanced tools for virtual camera creation and digital matte painting are perfect for set extensions and product placement shots, while the spherical camera rig lets you work with 360° video.
You might also like