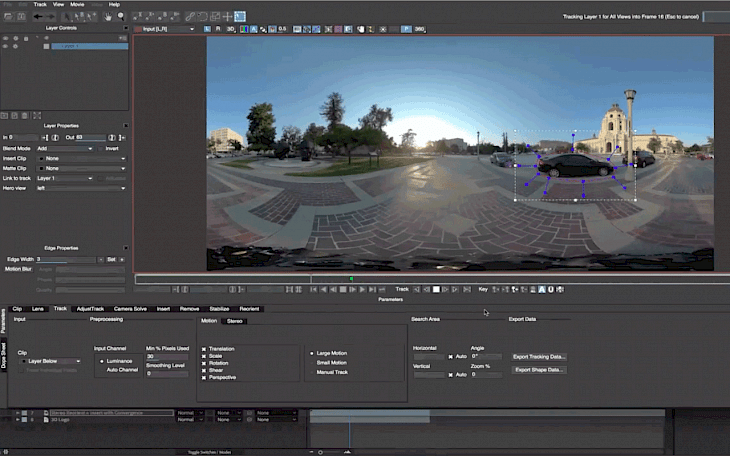 Download Mocha Pro
Mocha Pro 2020 planar tracking and effects tools were used on film and television projects including Star Wars: The Last Jedi, Blade Runner 2049, The Walking Dead, Game of Thrones and many more.
Planar tracking is at the heart of all Mocha Pro 7 modules and is used to drive tracking, roto-masking, object removal and more. Unlimited tracking layers and advanced AdjustTrack interface can handle reflections, occlusions, noise, even areas with motion blur or low details.
Render graphics onto your tracked screen surface within Mocha Pro or back to your host timeline with the new plug-in option. Combines with Lens Module for realistic VFX compositing on distorted footage. Mocha Pro 2020 is available as a standalone application with robust export options and as a plug-in for Adobe, Avid and OFX hosts such as Nuke, Fus, on and Vegas Pro.
Advanced tools for shape editing per-point edge feathering, join layers tool, transform tool, group layers, and motion blur makes Mocha Pro 2020 the ideal masking tool for effects or color correction. Mocha Pro's Remove Module is an amazing alternative to traditional clone and paint techniques for getting rid of unwanted pixels and removing objects.
It automatically detects temporal clean frames to blend and align pixels with little user input. The stabilize module can lock down camera motion or stabilize moving objects. Smooth option with selectable anchor frames will reduce high-frequency jitters while maintaining original camera motion. Export lens data or render correction back to host in the new plug-in option.
Mocha 2020 solves the 3D camera based on user-selected planes. This fast and easy-to-use solution is ideal for set extensions, 3D text, and particle tracking. Additionally, the 3D solver can be used to assist other 3D tracking applications on difficult shots with low detail or significant foreground occlusions. Mocha Pro 6 supports native stereo 3D.
New features in Mocha Pro 2020
Mega Plates Module: Generate large plates of the whole scene based on tracked planes, then create Mega Clean Plates to use in Remove.
Area Brush: Quickly paint areas to turn into splines
OCIO Support: Load OCIO configs directly into Mocha
Python 3 Support: Mocha now uses Python 3.7
Updated Python API: New tools to modify and create keyframes, along with a streamlined parameter system.
You might also like