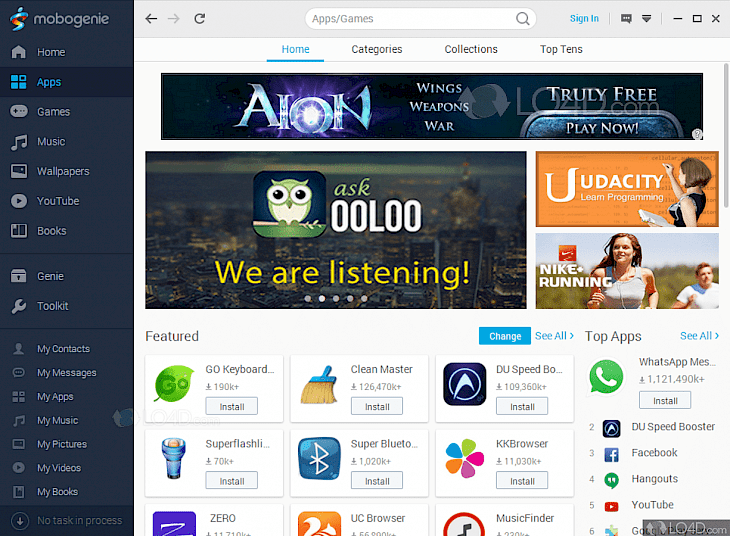 Download Mobogenie
Managing mobile devices has become a difficult task. Especially when you have plenty of applications stored, and there's no way to get rid of the clutter. Wait, you could format your phone. Sounds good, right? It will help make your phone faster and give you a factory fresh piece where all your data is wiped clean—though there are alternatives to this method, personally choosing what to clear out sounds right.
However, if you have vital and necessary data and cannot delete any more information, you can use your computer. While you can connect it through a cable, you can do very little through the file manager that pops. Up. A dedicated application goes a long way in ensuring that you get the best experience of transferring data from one place to another. Check it out.
What is Mobogenie?
Mobogenie is a computer application that helps in accessing your phone in a better way. It's like your mobile manager, but on a computer that gives you access to everything and anything stored on your device. Moreover, you can format many things and bring a radical new change all through your computer and never touch your mobile in the process. Moreover, the entire software is free to download and helps get a wide array of features accessed to ensure seamless access of data on your device to and from your mobile device and computer.
Key Features of the Software
Install plenty of applications and games
With one click, you can either install or delete applications/games from your device. Installing newer applications and games is simple and doesn't require more than three steps to execute.
Manage all the things stored on your device and get a bird's eye view of what needs to remain and what needs to go out. It's a more straightforward way of getting that best experience for your mobile device.
Users can backup necessary and vital information to the computer and even restore the same information onto a newer device whenever feasible through the software.
Other essential features include cleaning your PC, root your mobile device with a single click of a button, personalize your device through the application, and much more.
Minimum System Requirements
OS – Windows 7 or higher

CPU – Pentium processor

RAM – 1GB or higher

Storage – 150MB
How to Download and Install it on PC
Get the software installer
Head to the software's official website and download the latest version. You could refer to any third-party sites to avail of the software as well. It's free and doesn't have a larger size as well.
Once downloaded, open the contents of the package and set up the installer.
Once set up, start the installation process and wait for it to finish. Once finished, use the application as per your preference.
You might also like